Sooooo. I set out to make M6752, view B, with a Maggie London rayon (jersey?) knit in 'orange crush'. I was pretty excited too. I just knew this bright orange would pop against my skin, especially if summer ever arrives and I get that slight tanned glow. Ahhhh (it's been 50-60 degrees here. Booo!)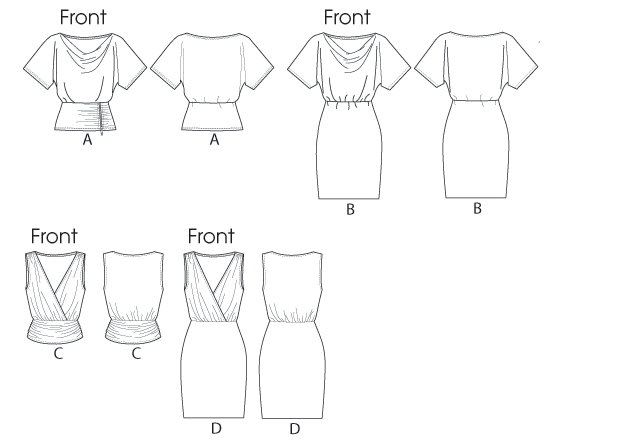 It's hard to tissue fit a top with a draped neckline...tissue doesn't drape. But I figured it'd be a bit too drapey/low and cut the neckline a bit smaller. The pattern is a QUICK sew, it has the front and back bodice with cut on sleeves, and the front and back skirt which are cut on the fold. I cut my fabric on the floor and was very careful not to disturb it as I cut. I sewed it up on my SM using a zig-zag stitch and serged it - ok, maybe I shouldn't have serged it before trying it on - but I was excited about conquering the serger! :)
I put it on Lily and thought - it's cute! I was worried about that neckline though. Sure enough, when I tried it on me - BLAH, BLEH & MEH!!! It was not flattering. The skirt is a good fit (and I used it as a template to cut another knit skirt that'll just be finished with an elastic waistband) but the bodice is way too shapeless and baggy. I like dolman sleeves but they hang in an unflattering way. I've been thinking of ways to fix it and have tried it on several more times and yeah...I think it's over. It doesn't make me happy.
In other news - we're moving! Yay!! And...that means I'm getting a dedicated sewing space! Woohoo!!!!!! No more sewing at the dining room table, breaking my back cutting, having to completely clean up some days so that we can errr...actually
eat
at the table. No more mountains of plastic bins around me holding fabric, patterns, UFO's, WIP's, etc...I'm getting a sewing room!
Now, it's in the basement - which is ok. I'll be sharing space with the laundry/mechanical room and there is little natural light. I'm going to 'Tim Gunn' it though and
Make It Work!
I'd really like a swanky black set up...like
Sew Many Ways
But my room is starting a bit dark and so I'm going to try to stick to white to brighten it up. My favorite color is blue...so I'm thinking of accents in shades of blue. I don't have a lot of dough to spend to start it up so it'll be odds and ends for now but it'll be all miiiiiine! :)
Ooooh and the bonus? There's a wall of cabinets built in - can you say fabric, pattern and yarn storage!? Bazinga! So I have to worry less about storage and more about the other important areas of a sewing space: Cutting, Sewing and Pressing.
More to come on that!