I'm trying to remember how I came across this pattern...probably just trying to find more interesting tops to sew??
At any rate, there were 4 reviews on PR (1 has no photo) and I could find no other reviews online for it. It's a gorgeous style!!! So I was surprised that not many had reviewed it and that of course made me go for it :-p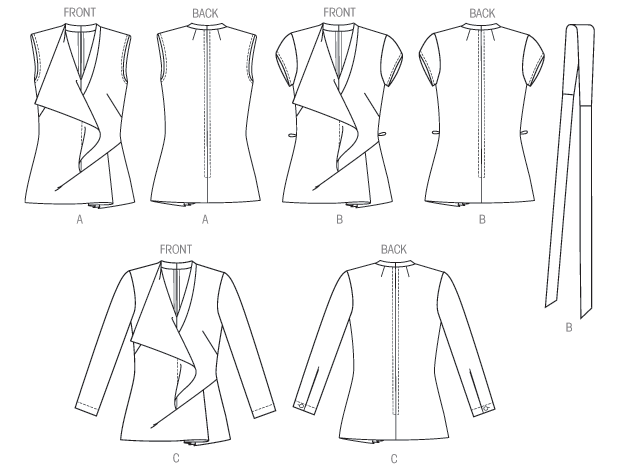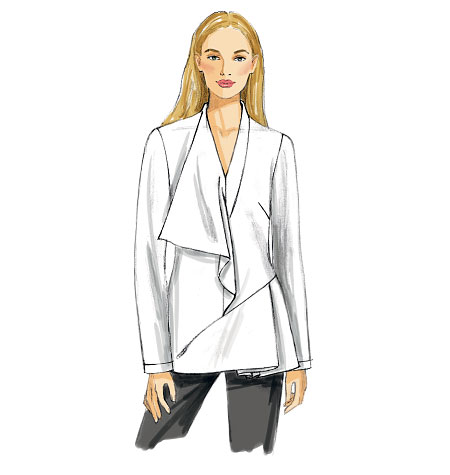 Right after deciding to make it I asked myself, "Self, what are you thinking?! Look at how complicated that is!!!!" But then my other self said, "You are easily an intermediate sewer, that pattern will be no match for you!"
Let's talk turkey...
1) The line drawing isn't entirely incorrect -- The pattern has back darts and there are no darts to be seen on that line drawing. (the sleeves on the tech drawing do not look full length to me, but the photo shows that they are). It oddly shows no hem stitching but the hem IS top-stitched.
2) I don't know how you would get the right side to look how it looks in the photo and line drawing with the method they provided.
3) Vogue rates this pattern as 'easy'. From the Vogue site:
EASY
Easy-to-sew patterns but with more details than the Very Easy category. Perfect for those with limited sewing knowledge or little time. Expect a wide variety of sewing procedures—there will be more details when the techniques are simple and fewer details when the techniques are more involved. Some fitting knowledge required.
Now, this is fine if one reads the ratings and understands that easy does not mean novice or beginner. However, I often see suggestions to new sewers to get a pattern marked "easy" and I don't think they understand it doesn't mean what they think it means.
Is this pattern difficult? No. But there are techniques involved that could frustrate a new sewer.
A pivot corner.
Whatever the heck is happening with the right collar assembly
The left band is...Oddly shaped, oddly sewn plus some more oddities. It's too long too. I mean, it is cut on the bias so I assume it's a piece that could easily stretch out of shape, but other reviewers mentioned it too.
The way the front is finished can be confusing too.
The pleat in the sleeve hem is formed by making two buttonholes and then buttoning both over the button. Hmm. Interesting.
But it's so cute! And different!!!
What I love:
1) I love the flounce. But I love all flounces. I will wear flounce any and everything so never listen to me :-p
2) I love the asymmetry. Duh. I love asymmetry.
3) I like the length more than I thought I would. I was going to shorten it but decided to leave it as-is.
4) I love the pleat! Other reviewers didn't seem to care for the smaller pleats below the larger one. I really like the effect.
5) I actually love the sleeves as-is, without the buttons. I hadn't done them yet because I didn't have anything appropriate. But I like them as they are. I even folded out the pleat and pinned it and while I like the little blousing it creates on the arm, I think I like the loose sleeve even more.
6) The sleeve set BEAUTIFULLY
What I don't love:
1) There's fabric for 3 people in the upper back. I was so distressed initially. I inserted one sleeve and thought there was excess fabric then thought, hmm, maybe that'll resolve when the other sleeve is in. Nope. Total hump-back thing happening.
****I forgot that it was suggested that the back is a length, not width issue until it was just mentioned again in a comment on my review.*****
2) I love this color and the thickness of this crepe. However, it shows every lump and bump and I am already self-conscious about my backfat. In fact, it is probably the only body-thing I am self conscious about! So combined with excess fabric and I hate the back view. Hate. Hate. Hate.
3) the narrow hem. I should have just serged and turned up a wider hem. Darn it.
4) My fabric is the same on both sides. BUT I should have hemmed the flounce the "other" way. It's hemmed before the front is assembled and I automatically hemmed it to the 'wrong' side. But the wrong side is showing! Doh! It does bother me a tiny bit.
The front is 'connected' by overlapping the right over left and stitching in place. Because I am getting smarter in my old age, I used Wonder Tape to hold this in place.
The underside of the flounce
The pleats! :)
The seam that connects the pleated lower portion to the rest of the top. I serged this and pressed it but it is bulky. I don't know what to do to make it less bulky.
My invisible zipper is totes invisible! One reviewer left off her zipper. This was not an option for me.
The inside of the left band (you can see some Wonder Tape! LOL!). I slipstitched by hand and still have a few inches to do.
The back is actually even up top! :) I need to insert a hook & eye. I feel some kind of way about that for a finishing but can't verbalize why.
Are you still here? WHEW!
I sewed a size 14 with the following adjustments:
3/4" swayback
1/2" narrow shoulder
1" bicep adjustment
2" added to hip via slash and spread on back pattern piece
Moved the dart 'back' 1". I also meant to lower it a tad.
Next time I'll take a tuck across the upper back to remove excess length.
I love the sleeveless version and will be making that one soon!
****************
Misc:
My
Making My Wardrobe Work
page is updated. I've been adding photos in sets of 2, because I am also rating each outfit and it helps to do that soon after wearing it rather than later.
I see my Rheumatologist again in December and *hope* to be 20 lbs lighter by then. I am only weighing at the end of each month because, ugh, scales. I finally took some measurements today and am 1/2" smaller at the bust and hip and 3/4" smaller at the waist. YAY!