Because my middle name is miscellaneous... No, not really, I just have a lot of random thoughts, often.
New Look 6189. I made this pattern before, a few months after I started sewing. They were REALLY cute just too high in the rise and I knew I'd never wear them. I made them again in a suiting fabric and messed up and got one leg off grain. But the fit of the pattern worked!
I had them in my fall plans out of a crepe. When I ordered this fabric, I made sure it was opaque and that it was suitable for pants. I missed the texture. It's pebbled and I don't like it. I like the color but don't love it and with the texture it's just a big ole' NO for me. I'm not completely anti-polyester but with that, this color and that pebbled texture it reads too much like old-man pants.
Also, I forgot that the leg on this pant is MUCH, MUCH fuller than the envelope suggests.
Meh. I left these alone, and unfinished, and moved on to the wrap top of my dreams (haha!). I have to do a full review on this one because this pattern is
stupid and dumb
. Yes, very mature, I know. But it is. It did not help the cause that I used a (beautiful, printed) polyester charmeuse. I swear when I walked into the room the fabric would fray. Peek around the corner -- fray. Think about walking downstairs - fray. Good grief.
M7358
I'm going to finish it because it is pretty. So perhaps, after awhile, my anger at it will subside.
Also, I want to finish this jacket (B6141)!!! But first, the funnel-ish collar is just wrong. I think it's drafted incorrectly and I don't know how to fix it with the way the front is constructed. So I'm going to use one of the other collar views.
Then, I had a hell of a time setting this sleeve and when I went to take it off the dress form I noticed a few small puckers in front (which in the photo below I thought it was just because I hadn't pressed it). So I have to re-do part of the sleeve.
UGH.
But it's cute!!
My daughter is on week 3 of college and mentioned wanting a robe for going to and from the bathroom. She's a huge fan of dark green (hunter, pine, etc) and I found a great plaid cotton flannel at SR Harris to sew up M7297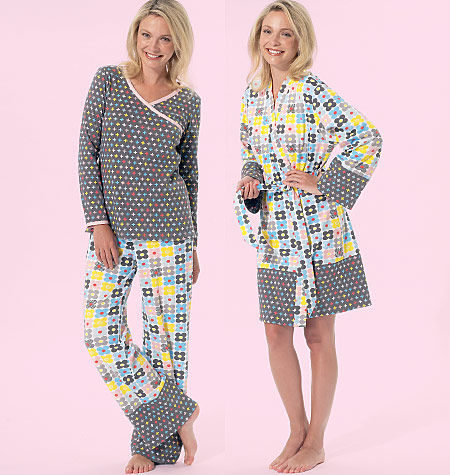 They both washed and dried well and I was excited to get started.
It wasn't until I went to cut out the solid parts (the bands) that I realized the green is FAR thicker/heavier than the plaid. And the bands are all sewn double. I'm not so sure this will work out and am tempted to call it quits and buy a robe!
Wah. Wah. WOE IS MEEEE.
So you know what this means? Mojo is kaput. Which is fine; I've been sewing like a crazy person despite being super busy with family stuff. The next two weekends were already non-sewing time because of existing plans. Plus I have a new book to read. So I'll take some time off, clean my sewing room and I'm sure I'll be all excited to jump back into it :)
I still need to photograph my polka-dot New Look 6123 (which I've worn) and maybe I'll get pics of the NL6189 pants on.
Other Stuffs...
Have you been following along over at
Carolyn's
with all her fun giveaway's for National Sewing Month?
Do you know that Saturday begins
OWOP
and there are giveaways?
I'll be using my trusty Butterick 5760 skirt to participate!
Also, I changed my blog theme again. I wanted more white space. I like it.