Last we "spoke" I was whining about my lost mojo. Well, you all have been with me long enough, you know I found it!
That day I cleaned up the sewing room and started fondling fabrics - guaranteed ways to jumpstart missing mojo btw - and refocused on my
fall plans
. Of course I want to sew all the things, but I've decided to break them out into mini wardrobes. I am completely and utterly bored with my closet. It is time to start switching over. I've done a mini cull of things that have to go (for various reasons) and have some holes to fill.
I do not need ANYMORE sleeveless tops/shells.
I need more transitional tops (able to be worn on their own now but can be layered in winter).
I am currently obsessed with not-full-length sleeves
Blue is my favorite color and "neutral". I have to stop myself from buying more blue fabric!
Simplicity 2369 (which I've made as a top and dress before and LOVE) in navy jersey.
This is cut out, pinned together and ready to serge. I was waiting on blue serger thread which - Wawak rocks!
Butterick 5678 in a soft but completely opaque and sturdy cotton shirting from SR Harris.
This is mostly done. I have loads of topstitching to do (cuffs, collar stand, button bands) and then I can sew the side seams, set the sleeves and finish
I love Wonder Tape for collar stands!!
I accidentally sewed my laps backwards. Again. They're wrong on EVERY ONE of these that I've made. I always check first and still manage to sew them backwards.
Lastly, Kwik Sew 3558 jacket and matching pants from a blue/white mini check suiting.
KS3558 is pinned and ready to have the hems sewn - I'll be doing it by hand. Here it was when I messaged L (You Sew Girl) to ask what the heck was up with Kwik Sew and the ridiculous shoulder length. I narrowed them 1/2" on the paper and still had to go back and trim off 3/8". WOW!
For the pants, I planned on V9155 which I've made before but ended up making a muslin of the In House Ellen pant. Aside from needing to add like an inch and a half to the back rise(!) and removing a little length through the back leg, they fit great.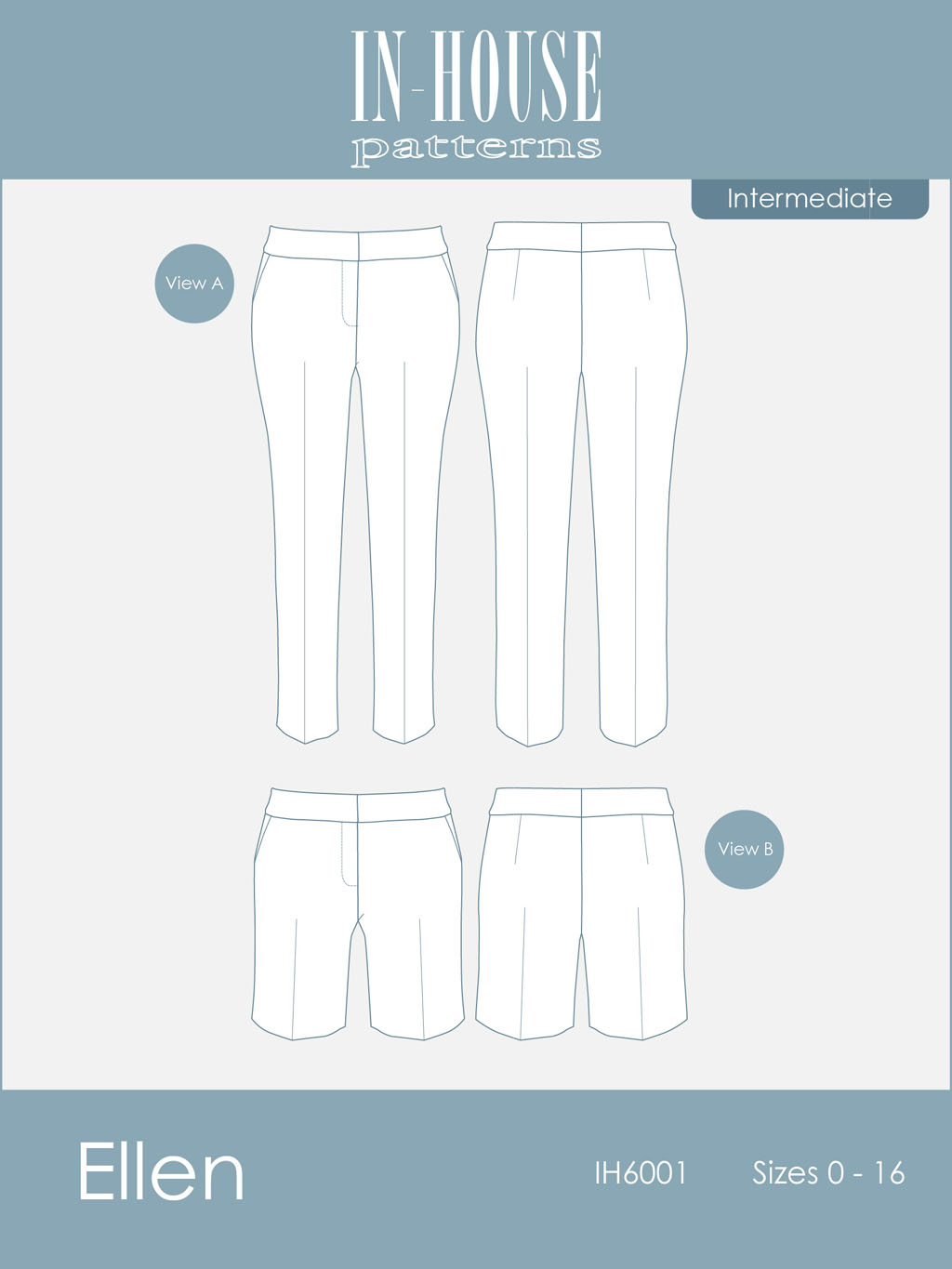 I don't have much tan/beige/brown in my wardrobe despite being colors that I like, and especially in fall.
Simplicity 1063 top in this animal print jersey.
I was browsing my top patterns and I actually liked this one on me but hated the facings and never finished it. I have a plan this time around.
New Look 6481 jacket in a suuuuper drapey ivory suiting.
I knew I would make another jacket from this pattern and a trip to SR Harris last month yielded perfect fabric for it.
Vogue 9032 pants in taupe-y suiting.
This fabric is an RPL that I've been hanging on it. I really like the feel of it and figured I'd better go TNT for it.
Butterick 5760 skirt in camel flecked wool suiting
This fabric feels amazing. I can't remember where I got it (maybe Sawyer Brook?). It was expensive so I bought 1 yard for my TNT skirt. It will be fully lined.
Burda 9/2016 #113 in this printed ITY
I think the pattern has a retro flair and this fabric does too! I can't wait to sew this though I have a tiny bit more time before I can wear a turtleneck dress, even in the tundra.
Okay so, I just want to sew this plum crepe. I have no pattern in mind. LOL!
Vogue 1465 turtleneck top in moss green ponte
I've wanted to sew this one for awhile now. I may make a matching pair of slim pants with the remaining yardage. I love that color!!!
"But Wait! There's More!"
Swoon Scarf Neck Cardigan in black burnout jersey
Because it's burnout! So fun!! This is a quick project so I'm sure it'll sneak in somewhere sooner rather than later.
Ottobre 5/2016 sweater in textured double knit
I think the pattern is meant more for a jersey but no matter. I'm going to have a super cuddly sweater from it!
McCall's 7430 dress in grey ponte
Part of me wants to make the sleeveless version for ease of layering and part wants to make it sleeved. We shall see!!!
Burda 10/2016 raglan sweater in black/white double knit
I envision this as a layering piece over my button front shirts or long sleeved tees. I'll crop the sleeves (I told you!) to just below elbow length.
I am on a self-imposed spending hiatus --- I'm not even biting on 60% off wool knits at Fabric Mart...or Cashmerette's new pattern...I didn't even buy any Burda patterns at the JoAnn sale last weekend!!!! --- but the one RTW item I'm on the lookout for is a camel sweater. J. Crew has it's Tippi sweater for $79.50 plus 25% off but there are lots of complaints about the redesign. Turns out they narrowed the sleeves. I CANNOT afford narrower sleeves. I have large biceps compared to the rest of me. I may swing through TJ Maxx/Marshall's this month/next month to see what I can find.
Speaking of RTW...I always get my Burda magazine and Redbook on the same day.
THIS SKIRT!!!!!
I love everything about it. I have a similar fabric, though it maybe has a bit of metallic thread running through it, and I hope to copy this this fall/winter.
Similarly, I loved these J.Crew pants and though I absolutely cannot bite at $135, I decided I'd watch them for a sale. Well, the largest size they come in is too small for me. Booooooo!
Other Stuff:
I still need to post my chambray New Look dress.
I hope to finish my Butterick jacket before it gets too cold (it's ready for the lining to be bagged and I bought snaps for it - Wawak! Yay!)
Had some "life" happen last weekend and completely forgot about OWOP so I didn't participate this year.
SewPhotoHop is still going strong! I think I only missed a day.
Carolyn's pattern giveaway closes tonight! Head over there if you haven't yet!
The first challenge is up on the Fabric Mart blog. I want that sweater knit. Those ladies did some awesome stuff with it! Be sure to vote!
Week 2 of the Pattern Review Sewing Bee is up - they have to make bias cut garments. OY!
Until Later!