Trying to get my sew jo back, I started cutting a few patterns earlier this week. Two tops and a dress all in ITY knits - PRETTY ones too! Just you wait and see!!!!
NL 6108 views B and C:
View C is almost done:
And M 6744, the long version of view C.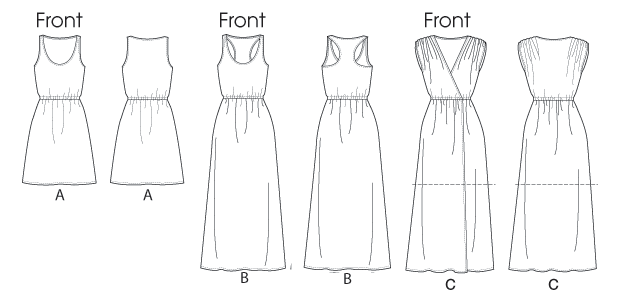 ******************************************************
Last month, I ooh'd and ahhh'd over the latest McCall's pattern release. (
Fall McCall's
). I know, I know I own what's fast approaching 200 patterns.
Listen - this is a marathon, not a sprint! I have to buy them cause you know...I just may sew it. One day. Yes, I have about 6 patterns in queue right now, but who's counting?! :)
Hancock had McCall's for $.99, Vogue for $3.99 and Simplicity and Butterick were on sale as well, for $1.99.
Burda will be on sale at Hancock AND JoAnn this weekend - GO!
There weren't any Butterick or Simplicity patterns that I wanted but I had 3 Vogue's on my list and 82 McCall's. Ok, about 8 McCall's...
Vogue's:
1343 -Tracy Reese Pullover dress.
I totally had no interest in this dress until I saw
Kathy's
. I mean, RIGHT?!?! There are so many amazing details...the pleating, the tulip skirt, the pretty gathered back with buttons. Swooooooon. I have a perfect rayon challis for it too!
8904: This Marcy Tilton dress doesn't necessary look inspiring...
But then....
Carrie's Version:
Goodbye Valentino's
And,
SewManju
's
And...oh just head over to PR...they are all FABULOUS!!!!!
Lastly, Vogue 8776. I am making this for fall. I do not care! Both Mimi and Erica told me I could still do a cape so I shall do a cape!!!!
Erica's:
Mimi G's
Miss Celie's:
Aaaaaand
Heather's
:
So uhmm, yeah! I'm making it!
I picked up McCall's 6791, 6792, 6796, 6801, 6802 and 6803 - HEY! They were dollar!!! AND there's no tax so they were REALLY a dollar!