ETA:
DanvilleGirl
is hosting a pattern giveaway on her blog, check it out!
I've found another cute option for a suit. I knew I wanted a more 'feminine' style jacket but wanted it to have a collar. I decided on this unlined jacket from the March 2014 issue and while I'm afraid of that pleated skirt on my non-flat-tummy body, I really like skirt #104 from the same issue.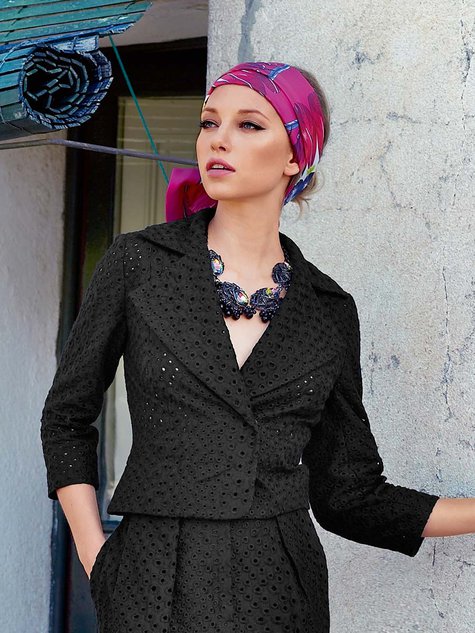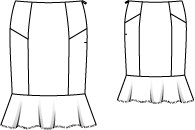 Or I can use my TNT B5760
I'm not sure which way I should go!!! I'm going to make the suit with the straight skirt. I really like that flouncy skirt and will make it soon, just not for the interview suit.
I found SEVERAL finished photos of the jacket on the Russian Burda site and decided I needed it NOW. And then....THEN...
I made a muslin.
Oh yes. Yes I did! :)
I had this (weird) cotton in my stash from a FabricMart bundle and it was perfect for this. A little more stiff than my fashion fabric but otherwise about the same weight. I cut a straight size 42 and the only change I made off the bat was adding 5/8" to the sleeve width
Too much fabric in a few places...
I removed width from the princess seam from the waist up, slightly narrowing the shoulders along with it. I made a 3/4" swayback adjustment and took an armhole dart. I saw these lines in FFRP and it suggests adding a little to the back of the sleeve. I won't re-muslin; but will add a little bit to try to eliminate those wrinkles.
Ahhhh. YES! :)
Sure, I thought about it after that I made the changes on the side without the sleeve. So I have the seam allowance folded over. There's still a little bit of excess but 1)the lapels are large and will cover that area and 2) my RPL has a bit more drape and should lie more smoothly over the front than the stiff cotton.
I started sewing the jacket today and should be able to finish it tomorrow and get the skirt muslined. I have two interviews next week so it needs to be ready to go! :)
MMM Days 10-21
Day 10: New Look 6130 with Vogue 1411
Day 11: Style Arc Sandra jeans with Simplicity 2153 jacket
Day 12: InHouse kimono tee
Day 13: Burda 2/2014 top
Day 14: Vogue 1395 dress and McCall's 6996 cardigan
Day 15: Simplicity 2443 jacket and Style Arc Sandra jeans
Day 15 continued: New Look 6130 top
Day 16: New Look 6373 jumpsuit
Day 17: New Look 6104 top and McCall's 6996 cardigan
Day 17 continued: Simplicity 1803 dress
Day 18: McCall's 6389 top and Burda 6907
Day 19: S2255 top and V1411 pants
Day 20: Burda 7136 shirt and V9032 pants
Day 21: McCall's 6996 cardigan and Simplicity 1696 pants