I've started my first sewing project in April! Yay!
Besides work on the prom dress, I haven't sewn anything since finishing the skirt (from my last post) which was March 19th. Whew.
I'm working on McCall's 7246 in a ponte for my Fabric Mart post. Watch for that on April 23rd!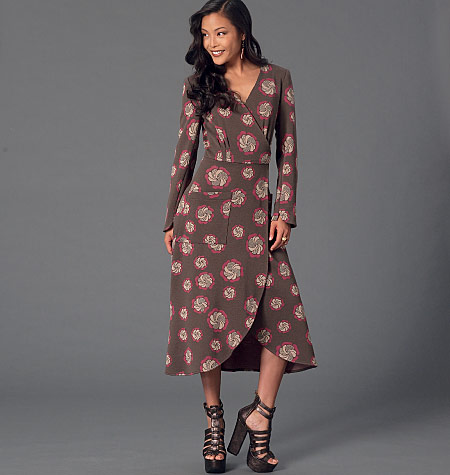 I plan to have the prom dress finished by 4/24, and then hopefully I can get my Burda dress sewn that week. I think sewing 2 things in a month will be some kind of crazy record for me.
Good thing my fabric shopping has slowed down too!
I have made a purchase or 2 (really 2 max) outside of Fabric Mart, but looking at my order history there, I placed orders on:
March 18
February 22
December 19
September 8
August 11
WOW!
Looking a little further back, I placed orders on:
July 21
July 10
July 1
June 5
May 31
May 27
May 13
Hahahahahahaha! 5 orders in 7 months vs. 7 orders in 10 weeks.
I'm reformed!!! ;)
I've been buying some RTW lately - spring tops - and have remembered how much I like Ann Taylor and Ann Taylor Loft!
I ordered this drop shoulder sweater in coral, in a size Medium, and LOVE it:
I also ordered this tee but it doesn't work. I'm too short-waisted for the design feature. It's a really snug fit too (size L)
Me standing up nice and straight:
Me standing how I normally stand:
Hahahaha! So this one is going back.
And I picked up 3 (YES! haha!) of these sleeveless shells. The front is a rayon crepe-type fabric and the back is rayon knit. So comfy and so cute! I got a teal with navy polka-dots, black and this stone blue. I wore the blue with my Lekala skirt and got tons of compliments!
I had to skip out on the Wardrobe and Bargainista Fashionista contests, unsure I'll do the Endless Combinations (which I really wanted to do), and now the pants contest is starting up and I'm not sure I'll have time to do that one. WAH!!!! I like the PR contests so much!
Guess I'll just be looking forward to Me Made May! Are you doing MMM this year? I enjoy it and more importantly I enjoy following the hashtag on Instagram! I do wear handmade almost everyday, so from that perspective, it's no longer a challenge for me. I don't even know if the 'no repeat' thing is really a challenge for me! I won't say I won't repeat for the entire month because...there are just things that I love too much and are wardrobe staples for me...but I will be looking at it from a style perspective. Mixing handmades in new ways (e.g. vs always wearing top A with pant B, etc) and mixing my handmades in with RTW.