Hellooooooooo. Is this thing on?!
Thanks to all the supporters of my lab-coat-vest! ;-)
It's only been 10 days since I last blogged but I've barely been reading any blogs either which is crazy for me! Now, I could have sworn I had taken photos of my latest B5760 skirt (of which I have made 4 or 5) but I think I just tried it on with a bunch of tops.
**Ooh! That made me think of something...I got lots of comments to try the lab-coat-vest on with other outfits. TRUST me, when a sewing fail hits the blog, I have tried that garment on with
any and everything
I think might possibly help it and make it work. So the vest got tried on with lights and darks, with skirts and pants and shorts and jeans, with sleeved dresses and sleeveless dresses. It just doesn't work in it's current state. At all.**
Anyway, I finally had a few minutes to check out a couple of blogs today and realized I hadn't posted my March wrap-up. So here goes!
This month I sewed 14 yards:
McCall's 6884 dress in black and floral print ITY - 3 1/4 yards
Vogue 8904 dress in gray and white striped jersey - 2 3/4 yards
Burda 7136 shirt in chambray - 2 yards (still needs buttons)
Simplicity 2700 pants in brick red wool blend suiting - 2 3/4 yards
Simplicity 1756 vest in white linen/cotton blend - 2 1/4 yards
Butterick 5760 skirt in blue denim-look boucle - 1 yard
Favorite: Real close call between the two dresses. The McCall's is an absolute favorite pattern and I love the color blocking. But that Vogue dress is sooooo flattering IMO and I love how soft the jersey is!
Accomplishments: Zippered welt pockets on the vest! They were NOT perfect, but I DID IT! And without help from the pattern!
FAILS: Obvs we know what this is...the vest.
I had to bow out of the Wardrobe contest and my Fabric Mart post for the month. The move almost did me in! SO much work. Sheesh.
April's plans are to finish the prom dress and my April FM post. That's it. We'll see if I manage to get my April Burda done. I really want to make this dress and wear it to my daughter's final Jazz concert--they call it Hot Club-- It's really cool and as a bonus, senior parents get some special accommodations. Yay!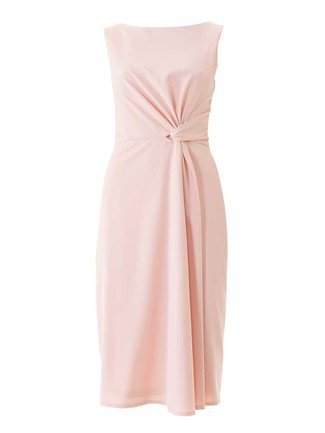 The concert isn't formal in any way so I plan to make the dress in the olive crepe I got from FM (LOVE every one of those fabrics I ordered btw!!) and wear a more casual jacket over it.