After my top-a-palooza, I planned on making 2-3 skirts with a more summery flair. When B6060 first came out, I snatched it up, liking both the straight view with the little peplum and the pleated view.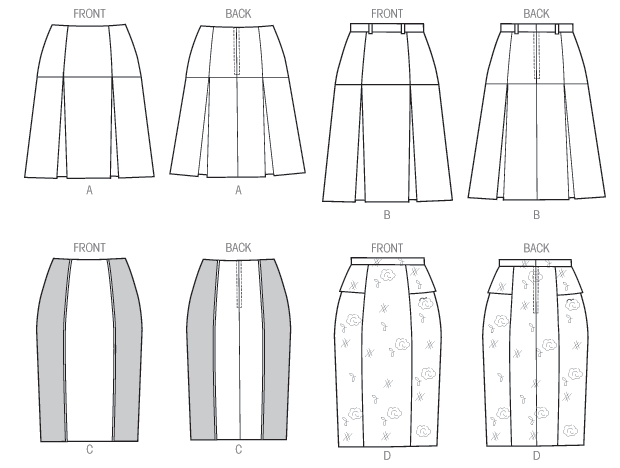 I was so excited to get going on this and decided on classic but summer-fun navy and white colorblocking. I had a cotton twill in navy and a rayon suiting in white (with white poly pongee lining). The weights weren't compatible but the upper skirt is meant to be lined and I thought that would equalize things (
newsflash: it didn't
).
Also, I didn't think the upper portion looked THAT deep in the tech drawing but the photo is fairly accurate.
I didn't consider how this style would work with my fairly rectangular (when viewed front-on) figure (
newsflash: it doesn't
). This skirt took a long time to make. Well, to make
well
.
6 seams on the upper skirt plus the zipper
6 seams on the lining
Pleating the skirt...
I used tailor tacks to mark the pleat points as I knew it was imperative that they be properly marked so that the lower skirt would fit correctly to the upper. I even hand-basted the pleats in place.
Did a great job on my invisible zipper:
Hand sewed the lining to the zipper tape:
There is no facing or waistband. I used strips of interfacing in addition to stay-stitching.
If I were to do it again I would add some twill tape or other support at the waist. The skirt pulls down when worn.
Because the twill appears slightly textured, I went ahead and topstitched the hem - it looks fine.
Hard to photograph the white+navy
I finished it and was SO excited and...MEH.
My daughter told me to "take it off please".
I didn't understand how it went so wrong! LOL!!!
After trying it on a BUNCH more times, I decided it could work if it sat closer to my natural waist. But I'm holding like 4" of fabric in back! It sits way low on my hip which makes me wonder if I didn't manage to stretch out the waist despite being careful - or if the size 16/18 was just too big. (I always do a 16 front and 18 back in skirts).
I like the pleated bottom and thought MAYBE if I removed 2-3" from the height/depth of the top it could work in the future. But...sometimes you win, sometimes you lose. And there are WAY more "patterns in the sea".
In the meantime, I have my Ann Taylor Loft white eyelet/lace skirt and I ended up getting the colorful A-line skirt online. YAY! It came today and I absolutely adore it. I think I shall wear it tomorrow! :)
(size 14)
I also really appreciate the details. This is grosgrain used as a facing and zipper shield but it's SUPER soft and pliable. A quick Google search shows that cotton/rayon grosgrain ribbon is a thing! I like the way it's used in this skirt. I can see this becoming a wardrobe fave; even though it's bright and colorful.
I finished the Butterick skirt on the 3rd and on the 4th of July found myself home alone in the morning while both kids were working. "Oh well, guess I'll sew a dress...", I said.
1) Knit - duh. Easy. Peasy.
2) Something I've made before - duh again! Ain't nobody got time for new patterns + adjustments
3) Easy to handle fabric - See #1
I was somehow drawn to NL6301, even though I said I probably wouldn't make it again. But luckily, I am smart sometimes. I thought about WHY I didn't enjoy the make as much (though I like the dress)...Ponte was not a good fabric to use with this one. It just created too much bulk in areas with pleats and ties and...bleh.
So I reached deep into the stash and came out with this lovely, thick springy poly jersey that I purchased from SR Harris way back in 2013 when I first started sewing. The colors are fun and vibrant and say SUMMER! but can easily transition into early fall. My kinda fabric!
This time, I chose the view with the full skirt. Yeah, yeah, yeah, I did have to cut the skirt out. But that was easy, just a front and back, size 16 for both.
I ALMOST ran out of fabric! I had cut my sleeves early on when I found a good spot for them between the bodice pieces.
But when I went to move them - uh oh! This fabric has a crazy wide selvedge and it's uneven on top of that! So like 1/3 of one of my sleeves was this cream selvedge. I dug around through my scraps and WHEW! Found a piece that could fit the sleeve.
In an effort to fit all the pieces on the fabric on-hand, I ended up turning my neck binding piece on the cross grain. This meant I didn't have the stretch to snug it up against the neckline so it's a little loose. But still - I LOVE THIS DRESS!!
I ended up wearing it on my birthday <3
We were moving non-stop that day so all I got was a selfie and a cat and boy photobombed pic at the end of the day :)
The sleeves and skirt both got 5/8" double turned hems. I did not need to top-stitch the neck binding. Love. Love. Love.