There was a recent post on Pattern Review where Deepika asked about sewing patterns (har, har) and the seasons. I hadn't really given it a ton of thought before but summer sewing is not high on my radar. I mean, I sew during the summer - of course - but summer is just in the way of fall! :)
I love fall. It has always been my favorite season. I love the cool-to-warm temps (NOT HOT!). I love the smell in the air, the leaves...and I love fall fashion! I am downright gleeful when I can pull my boots out of their hiding places!
As August appears on the horizon, I start thinking about what I want to sew for fall. There's always a mix of 1) what I need (I think I need more fall dresses and jackets) 2) fabrics I want to sew (we all know how inspiring a particular piece can be 3) and patterns I want to sew. This may or not may mimic #1! Sometimes, you just want to sew a pattern, in a fabric, and maybe it isn't a thing that you really "need" at all.
I posted this pic on Instagram after rifling through the stash a bit. Full planning post to come!
In the meantime, there are a few more summer patterns that I "need" to get done. I recently finished up my July Fabric Mart project and knew I had to make another one in a print!
You can read all about this piiiiink linen version of Burda 6732
HERE
on the Fabric Mart Blog.
So I ended up ordering some fabric during the FM P-Z sale and have a fun printed challis on the way to me for round 2.
But what to sew NOWWWW?
I wanted to make M7391 in chambray but got all scared of the eyelets. But I've been assured (sewing friends are the best!) that I can do it. So that's on the agenda.
I don't have a ton of fabric so it'll likely be view D shortened to tunic length (length of B/C)
In the meantime, after scaring myself off of the eyelets, I decided I'd make M7388 out of a lovely print rayon challis. But, it's lined! Wahhh! I did not have anything appropriate for the lining so that got put away.
Then I saw a version of Burda 07/2016 #117 on PR without the crazy wrap-around neckstrap and went straight home, traced, cut, and starting sewing the pattern! haha!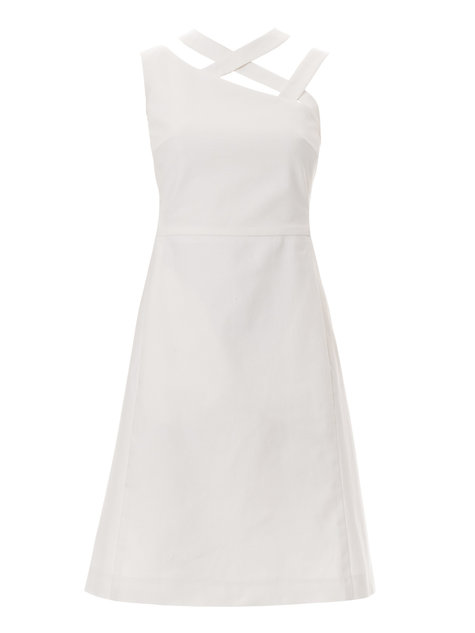 Progress as of this morning:
Lastly, I've been wanting to sew this Style Arc Susan skirt since I ran to purchase it
last
July.
Do you have whiplash yet!? This happens to me sometimes. Especially considering I went a couple of weeks without sewing at all.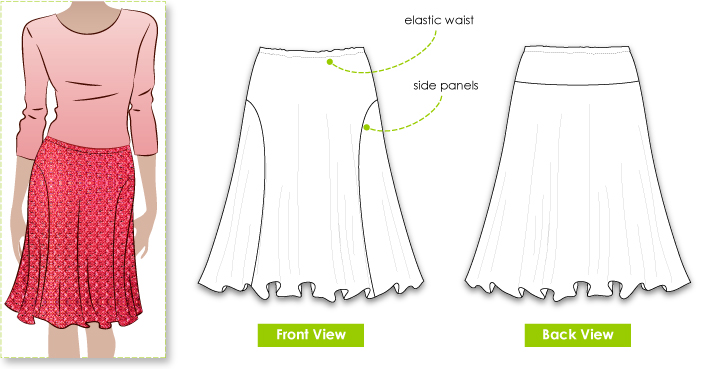 I'm sure this is intended for 'swishier' knits but I just couldn't shake the idea of using this floral (lightweight) double knit for the pattern. And I figured, it would just give it a little more body...what's wrong with that?? So I crossed my fingers and charged ahead!
This fabric is, of course, from Fabric Mart. It has some really beautiful shades of blue and purple that I rarely incorporate into my wardrobe. Plus, I decided I couldn't go another moment without a floral skirt :)
I used a size 14 (typically 12 up top, 14 skirts, 16 pants. Which explains why I am always "afraid" of trying a SA dress. Soon) and sewed the side seams at 1/4" instead of 3/8". I used 1/2" elastic (just turned and stitched a casing).
I constructed this completely on the serger, it's SO SWINGY! But it comes like 6" past my knees. I don't understand why it's so long :(
I'm going to have to measure very carefully and "connect all the dots" to trim this down. I tried it on with high wedge sandals and it still looked kind of blah. I can't say that I normally choose midi-length...
I do love this fabric as a skirt though so I'm going to try to make it work!
I think I'm leaning towards option #3 for the WGD! It's so flirty and fun while still being totally appropriate for a wedding! It's intended for knits so unless I completely bomb out on finding fabric that I love...that's the plan! But I also *love* option #6. If I can find a complimentary lace/eyelet and other fashion fabric?? Which seems like a BIG if...That may win out.