I own a handful of Jalie patterns and have been meaning to try them. Boy am I glad I finally did! On PR there are 117 reviews and it's owned by 644. And you know that a chunk of that 117 is probably for duplicates (as mine is!).
I read reviews of some of my go-to bloggers to decide what size to go with (e.g. comparing the size they chose for the Jalie to the size they choose for say, Big4 or Burda). I chose the size that was almost an exact match to my upper bust, waist and hip measurement - size Y.
I actually made a muslin(!) and made a few adjustments:
1/4" armhole tuck (typical to have armhole gaping with a full bust)
added 1/2" with cheater FBA
5/8" cheater swayback adjustment (I need to add a CB and do a proper one)
Shortened the top 1.5"
navy, red, ivory print ITY
I LOVE IT!
In a cornflower blue modal jersey
There's still a little extra fabric in back. And I don't care for it tied:
Yay for the burrito method! It's so effortless.
On this version I topstitched the opening of the tie end that I turned the top through. (On the solid version I hand stitched it closed.)
I did the turn and stitch on the armhole opening - not my favorite. This ITY is beefy so it works okay. On the solid version I cut bands, stitched it, turned and topstitched and trimmed close to the stitching.
This version got double turned twin-needled hems. The solid version got double turned single stitch.
Lastly, I left the opening on this one to pull the ties through. Meh. I probably won't wear it like that.
I think I have to lay off the blue-based sleeveless tops! :)
A sewing friend sent me a big ole box of patterns awhile ago and V9056 caught my eye. I love peplums. LOVE! And I eagerly cut this one out. Did I read the directions? of course not! This is easy-peasy!!!
Sigh.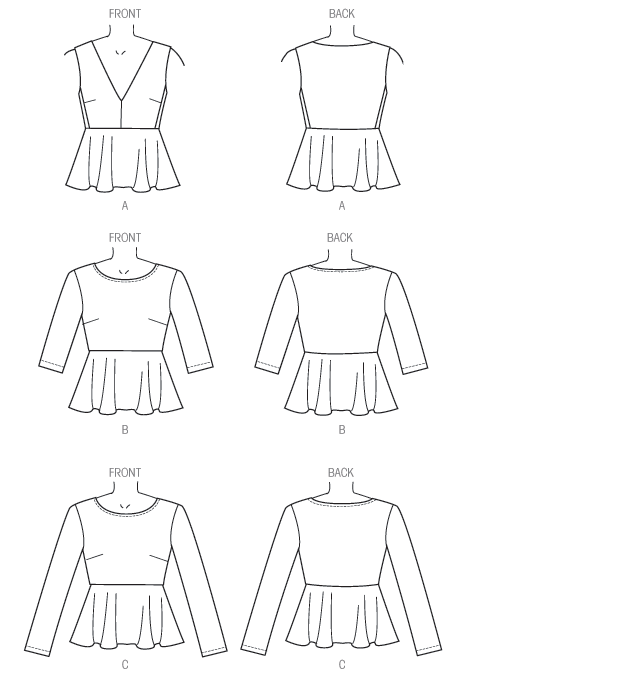 View A has raw edges.
Raw edges on a neckline?!? why!? And a v-neck at that?! UGH! By the time I realized that it was completely assembled. I ended up unpicking 1/4" of the CF seam and doing a binding at 1/4". I just sewed it, turned, topstitched and trimmed the excess. Same for the armholes. I did not mind the raw hem on the peplum.
I cut a size 14 and did a 1/2" FBA and a 5/8" "cheater" swayback adjustment.
It's just okay...It would be much better if the seam was at my natural waist. And those little side panels are completely useless and I don't know why they exist.
It's okay but certainly not love. Good thing is, it was leftover fabric from my Butterick skirt and went together really fast. This one will find a new home.
I did a helluva job on the matching though!
Ahhhhh :)
During this "5-day weekend" I also sewed a wadder of a skirt (boooo!) and a cute dress in a fabric I've had since I first started sewing (yay!). Hopefully I can get some good photos of those soon.