When I first saw McCall's 6841 I was all...meh...there's like 37 yards of fabric there...not flattering...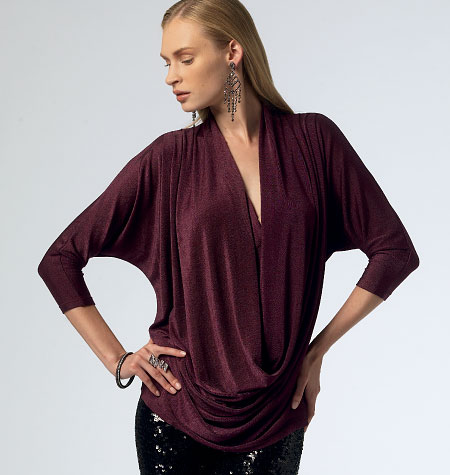 But then it started popping up allll over the place. And on other ladies that aren't twiggy like the model...and I got intrigued.
I am SO happy with this top!!!
At one point during cutting, I realized I was on the XS line and fixed it. But I really wonder if I cut my sleeves on the wrong line. Not complaining though as I am totally in love with this top!!
My only beef with the pattern is the lack of direction on finishing the sleeved version. The sleeveless and this one use the same pattern pieces. The directions stopped at finishing the armholes on the sleeveless version but doesn't tell you how to finish off the sleeves (there's a seam on top). I had to pin it to Lily to figure out what I needed to do.
The burrito method of finishing off the collar works well.
The only other thing I might do is some topstitching on the opening. There's a big seam allowance there but with the drapey fabric, it wants to flip out sometimes.
Oooh! I stitched up about 2" higher than what was indicated on the pattern.
But yeah...it's LOVE! :)
**************************
Shorts are Simplicity 1373 in an ikat cotton sateen. Easy, peasy, lemon squeeze.
2 darts each front and back
inseams and side seams
crotch seam
lapped zipper
hem (I did a blind hem)
I decided to add a 1" waistband because I'm not with the whole "twill tape to finish" thing. I used a straight one even though I really need a curved one.
I couldn't match across the side seams. I had my fronts cut out and matched across and then realized oops...I can't orient my back pieces in such a way to match the side seams. Ah well.
Next up is the Butterick knit blazer in kelly green!