Like many women, and most busty women, I love a good wrap dress! I had a few that were closet staples over years and they've since gotten too small (hahaha! THEY got small; I did NOT get larger!)
I have several wrap dresses in le 'ole pattern stash but wanted quick and easy. So I went with M6884.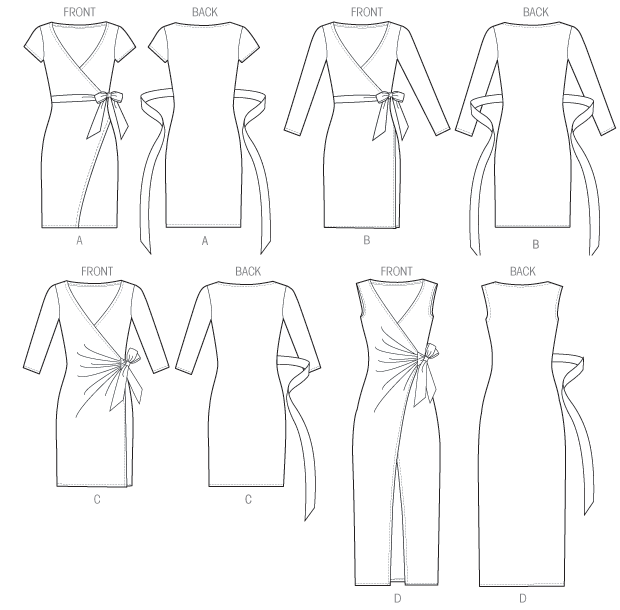 I thought I'd cut this pattern out before, but I realized, when I pulled it out, that I got annoyed that the 4 different views are all on ONE pattern piece and there's like a thousand lines; cut here for A, here for B, here for C, here for D. Meh. So I put it away. I almost put it away again this time! :) Knowing I was mostly interested in views A and D, I went ahead and cut it instead of tracing.
I envisioned an easy going dress that I could layer over tights and boots and look all fabulous when I take a me-day and finally(!!!) get my braces off
(9 days!)
.
Like I said in the last post, I was suspicious of it's booty-liciousness and got it to the point of trying on yesterday. I stuffed it in my work bag and ended up trying it on in the bathroom.
So yeah, a little more than what I was bargaining for to visit the orthodontist! :) That fabric at the hip is because I do not curve NEARLY as much as the pattern did!
I started with a size 16, which has finished bust of 39.5 and hip of 42.5. I sewed it with 3/8" seam allowance because I was skeptical - so adding 1" all around - and then ended up removing all that excess in the hip. Also, using the 3/8" sa in the sleeve made it PERFECT.
I do need to add a wedge at the back pattern piece for my behind. It's higher in back than in front.
It feels shorter than it looks.
Instead of turning and stitching the neck opening, I made a long strip and serged it in place, and then turned and stitched that. This fabric isn't happy being sewn just two layers. It needed a nice thick base to feed through my machine -or- stabilizing with fusible. I used the fusible on the front skirt openings (which provide adequate coverage, by the way!) and did a double turn and stitch on the hem and sleeves.
I didn't intend on having long sleeves and if I did, these wouldn't quite cut it. So beware of that.
Oh and I fully intended to add about 6" to the ties because I wanted to wrap them around. Totally forgot and they are too short to come back around to the front and still look good.
Shorty ties when wrapped around
Front band
Hem - look at how neat that is! Go me!!
Coverage on the front skirt
I really like how this came out and can't wait to make the long version next summer with this gorgeous ITY I have.
Oh and like someone mentioned on their blog recently; unless I say otherwise, my fabric came from Fabric Mart! LOL!!!
I have this in 3 colorways and it's all lusciously soft and presses nicely!
LOVE it!!!!
**Oh, almost forgot!!! Since my photographer is now a busy working woman :) I found a way to get pictures all by myself! This was taken at like 9:30 p.m. and the color is pretty true, but we have what I'd guess is 1 gazillion watts in our dining room light (it has a dimmer, but on full blast - woah!). I propped my phone up and used the timer (yay iPhone!) and after about 8 tries - score!
Now I have put a tripod for cell phones on my Christmas wish list. Woot!