I have been doing a terrible job at replying to comments lately; my apologies!!
Let's start with the bad, shall we?
There are several garments in the June issue of Burda that I want. I was immediately drawn to the culottes in the plus size section. I'm pretty much a 40/42 in Burda tops and dresses depending on the style and assumed I needed to go up a size for my bottoms as I do with the Big 4. So I figured the 44 should work for me!
Initially, I was going to use some awesome linen that I got from the Fabric Mart contest last year but it had far too much body after washing and drying that I decided on a lightweight cotton blend suiting. I really love the color of this fabric and have been hoarding it.
While tracing the pattern off, I started really questioning if I should make them or not. Because I am getting wiser in my old age :) I pulled out the purplish RPL that I'd gotten a generous cut of earlier this year. This one was much less vibrant than it appeared on the site---and I've yet to believe I can successfully wear this color or not---so I figured it was perfect for a muslin.
I cut the size 44, knew that crotch curve would be all kinds of wrong and the tissue fit confirmed I'd have some "butt hungriness" so I scooped out A LOT; like 1/2" and that was the right move. I did not add any hem allowance because I never need to with Burda (unless it's a petite pattern). I added 5/8" seam allowances except for 1" at the side seams. This was good as I needed a little more room at the high hip.
I cut off 7 inches of fabric from them.
SEVEN INCHES!
I hate everything about them. I hate them. I hate them. I hate them.
And I still don't think this is a good color for me.
Do I look cool and chic like her? Nope.
Also she must be like 6'4" cause...SEVEN INCHES.
They "fit"; the side seam is straight, the back looks good...
But I hate the style on me. Too much fabric. And, OMG the dropped crotch. I do not like it...it is not comfortable.
Other 'what in the world?!' for me is that the front crotch is sewn to the notch and then you topstitch the left side and then it wraps over. The part that would have a zipper? It's just open O_o I understand it because of the crossover; and it will have two outside buttons and an inside button, but again, not a feature I particularly cared for.
There will be NO additional work on these! I am moving on!!!!
But there is LIGHT! :-)
When B6204 dropped I was all aghast. I had to have this dress!!!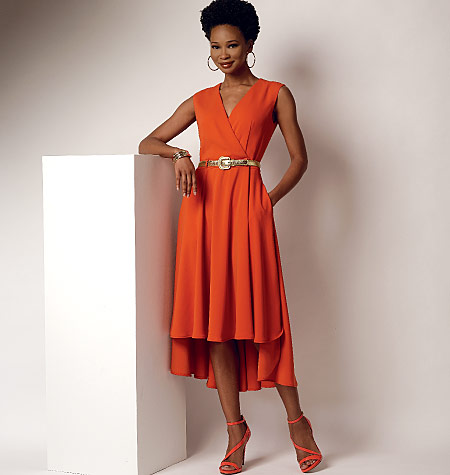 I mean, doesn't she look great?! :) I did not care for the hi-low hem but view A has an even hem...
I was going to muslin this but I've made similar and figured flat measuring and tissue fitting should suffice.
I have previously been using 14 D-cup but I think that I need to use the C cup and do a small FBA. It seems as though the D cup has too much projection. Like my bust are more full than sticky-outy. Anyhow, I went with a 16 C cup. Traced, did some tissue fitting...made some changes to the front.
The Front.
Did I fit the back at all? Nope. Sometimes my older self is not wiser.
On the 16 C bodice I "took back" 1" of the dart uptake, lowered the darts 1", and did a 3/8" tuck on the front neckline to hopefully prevent gaping. I also did a 3/8" armscye tuck. I did not narrow the shoulder. I added 2 inches to the front waistband to match the addition to the front pattern piece and to the front skirt to match the waistband.
I decided to leave off the belt carriers and pockets and completely forgot to interface my waistband...
The instructions for lining the bodice was great! Sew the armscye seams first, easier to understitch that way! And if you try on your bodice a whole bunch of times (like, a whole bunch), it may 'grow' and then be slightly bigger than your lining. I don't know anyone who may have done that though...
hahaha!
Once I got it assembled, I basted in the zipper and got this:
my daughter keeps Christmas lights up in her room :)
Yeah...you should have fit the back too crazy lady!!!
But my in progress shot was encouraging so I was excited to finish:
And then trying to get the zipper in with the crazy amount of excess fabric in the back resulted in a serious case of
W
hiskey
T
ango
F
oxtrot with some of the inside finishes.
I was so annoyed...and I'd go so far as saying I was completely pissed off at this dress last night!!!! I wanted to throw it in the fire place!!!! Nothing was going right. I probably should've just quit and came back to it but I didn't and as a result just suffered!
I pushed and pushed and when I tried on the finished dress, I was giddy! GIDDY!!!!! I was both glad that I powered through and mad that I "angry sewed" the rest of it.
(Dear daughter, you could have warned me about the trash cans...)
I mean...the twirly shots are far more important than anything else, right? RIGHT?!?!
It feels great on and I think those few bodice wrinkles are totally due to me making the fashion fabric stretch out of shape.
I just left all the excess fabric and used wonder tape to get the zipper in place as needed
Clean lined bodice!!
In the area where you have the cross over there's lots of bulk...be sure to grade that seam...
The side split
Now, do I love it? I do...I love it very much. But what's up with the crazy amount of fabric in back? Is it due to me choosing the wrong bodice size? Is the pattern just crazy big in back?? I can't say for sure.
All fabric in this post from Fabric Mart!