Dress pics and review are coming - promise! I just love it sooo much and think it'll be better served if I take pics on Saturday fully dressed-up. It's such a sweet dress <3
Soooo not like I have any other in progress projects or anything...
I was going to make a knit dress too in case this un-muslined dress didn't work out. S2369 was on the radar and I decided I should make the top first.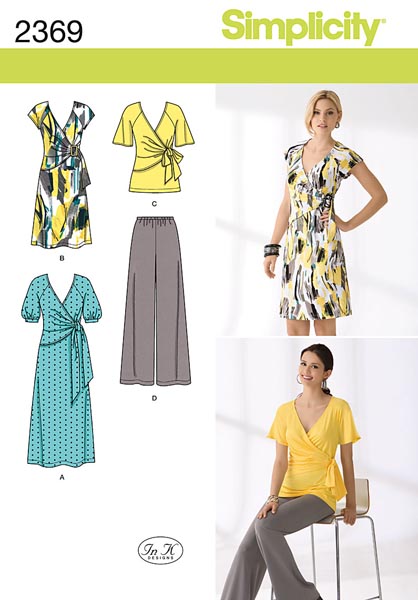 This pattern was a PR best of 2010 and now I know why!!
I rough cut the paper pattern on Sunday, ironed it out Monday morning and cut it out Monday afternoon. From cut pattern to hemming was about 2.5 hours. And that was with me having to put it on my dress form thirty-seven times to ensure I was stitching everything correctly. I consider this a quick project!
No swayback adjustment needed!!
There's a little extra fabric at the bottom of the wrap. I could've stretched it out while hemming...I'll pay attention to that next time.
The wrap
Pleats are made then the strap is attached. I -heart- the pleats!
This last pic is kind of washed out but you can see the details a little better. Sorry for the bathroom selfies...I was too excited to wait for "real" pics! :)
I decided to cut a size 16 (14 at the neckline/shoulders/top of the raglan sleeves); the finished bust was 39" and I am 39.5". Because I was leery of it being tight, I used 1/2" seams at the back and sides. I think this was a great idea. It fits very nicely and skims the body.
Construction isn't
hard
...but I've gotten to a point where I just go forward and yeah...this is one where it makes more sense to follow the directions. I swear I pinned this thing to Lily like a thousand times to ensure I wasn't messing up. I even sewed lots of seams on the sewing machine instead of going straight for the serger! I know! ME! :)
I love the fit. Love. Love. Love. I love the wrap. It is not revealing at all. I left the band "out" because I didn't want to show cleavage. But I like it better folded in (like a facing?) and will do that next time.
I was nervous about the flutter sleeve but it really works! I think it's cute on me.
There are no real dislikes; just that the ties are way too long for the top; but that's a preference and is easily changed. I mean, it's tied in a bow and there's a foot of extra tie! Oh and it's tunic length. I didn't want a tunic so I shortened the pattern 2 inches.
Shortening it in the flat pattern stage was a must because holy cow did I just squeak by with my 1.5 yards of fabric! Whew!! The pattern calls for 1 7/8 I believe for the size 16 and it is needed. It was a little dicey there for a minute and one of my sleeves had to be cut single layer to ensure I could fit it in!
Got a pic!