So I waited and waited to blog the dress and then....I got a stupid migraine and we didn't go to the wedding. Booooo. While I've taken two naps today and feel slightly better; I'm feeling like tomorrow will be a long day.
ANYWAY; I am always chomping at the bit for a reason to wear a dressy dress. When my husband told me about the wedding I knew I'd be making one - 1) Because...duh. I love to sew! and 2) my "wedding guest" dress fits like this:
No good.
But it's a cute dress!!
and it gave me the motivation to choose my fabric for the dress I was going to make!
I hemmed and hawed over the pattern. I needed something relatively easy to sew but still interesting. Fitted bodice but gathered or pleated skirt - so I didn't have to worry about fitting top and bottom. I was going to make a woven and a knit dress and choose between the two but I fell in love with Simplicity 1803 and didn't 'need' the knit dress!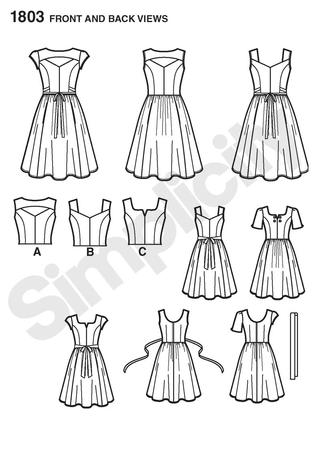 I really wanted to make the view with the cutout but saw a few reviews that stated it gaped and again - no time for fitting/fiddling. I didn't chose bodice C because on most of the views that I saw, the points kind of flopped. Maybe if I make that one I'd interface that area so they would stand up. So, I chose bodice B.
I lowered the bust curve of the princess seam and added 3/4" to the bodice as described in
this
post. And then I sewed that baby up!
In the post referenced above, I realized after I'd made the front uber neat that I was supposed to insert the straps in the front. Oops! Hey!! They called it a "yoke"! BUT I only had to unpick the width of the straps (plus ~1") so it wasn't too bad. Once I got past that, the rest of construction was pretty smooth sailing.
I was crazy super careful about forming that 'V'. I didn't want any wonkiness. I also decided to just pink that seam instead of serging it. (oh and when taking these pics I realized I never serged the waist seam! hahaha! I will do it when I switch back to white thread in the serger).
Can we stop and behold my invisible zipper?
I mean, srsly. (I crack myself up!)
When I got the dress assembled but before putting the zipper in, I had my husband help me with the final fitting. He may be silly but he is helpful! Him for fitting and DD for photos. My son? Uhmmm...OH! he washes my fabric for me when it comes in! :)
I ended up taking about 1/2" from each side of the bodice, tapering to nothing near the waist seam. I will transfer this adjustment to my pattern.
Let us NOT behold my hand stitching job. I really suck at it! But, the facing is tacked down and it is only on the inside and...
Interestingly enough, I really didn't find the skirt too full at all! I'm starting to wonder if the "too much ease" problem is more an issue for smaller sewers. Because let's face it, if there is less of you, you generally need less ease. I cut a size 16 and that's my "normal" big4 dress size.
To gather the skirt I used 3 rows of basting stitches. 1 row just outside the stitching line in a bright orange (for easy removal) and 2 rows inside. It was STILL really hard to gather all that fabric! But I think the row outside helped and I whined like a baby unpicking those orange stitches. Part of that is that my machine's longest stitch ain't all that long.
Let us also behold my blind hem:
Another skill that I'm really improving on with each time I do it!
Finally, I tried it with a couple of skinny belts and none of them were quite right - white, black and neutral. So I cobbled together a belt from the scraps of fabric I had left.
**Special shot out to FabricMart for sending me 1 yard and 33 inches of fabric on a 1.5 yard order! Woot!! Fabric is Maggie London 100% cotton sateen
In the side and back view I'm wearing the belt. It pretty much disappears but I still think it helps with definition.
So because I lurve this dress so; I will be making a couple more. I will use this one with the cutout for my LBD and I have a navy w/white polkadots. I mean, it's an awesome dress!
Future adjustments:
Take a 3/8" wedge from the center front pattern piece (it will lie flatter against my chest then)
Remove some of the length added to the back. I will do a wedge because I need the extra length for the front.