LOTS of sewing happened this month!
M6559 dress in orange stripe: 2 yards
M6841 top in white jersey: 2.5 yards
S1373 shorts in ikat sateen: 1 yard
B5926 jacket in green ponte: 2 yards
M6559 dress (for my daughter) in grey/mint striped ponte: 2 yards
M6754 top in mint ponte (not yet blogged): 7/8 yard
S2061 pants in mint ponte (not yet blogged) 1 1/8 yards
V1395 dress in floral challis: 2.75 yards
NL6130 pants in stretch denim (wadder): 2 yards
SS A1636 dress in snake print and floral print: 3.25 yards
Kimono tee in grey cotton knit: 1.25 yards
SS A1523 top in printed knit: 1.5 yards
That's a total of 22.25 yards! That's a great month!
Favorite item of the month has to be the McCall's 6841 top with my Sew Simple dresses coming in at close 2nd!
My plans for August are kind of crazy. Why? I know that usually when I have crazy mojo like I do now, I end up crashing.
I talked about needing some sleeved tops for work so I tried to pick fabrics that were good for summer but that could transition into fall. But then I got the crazy idea that I needed floral pants and a striped top.
My -FIRST- priority is to finish my poor abandoned Simplicity 2443 jacket that I started in June.
Then:
There's my floral pants and striped top, two quick and easy work shirts and a vest that I've been thinking about for awhile; olive green with red zippers and cording. It's gonna be pretty cute, I think.
Then I need to muslin the Vogue pants and hopefully sew 2 pair.
I also want need to sew the denim Burda jacket.
I want to sew a cape; either Burda 08/2014 #123 or Simplicity 1775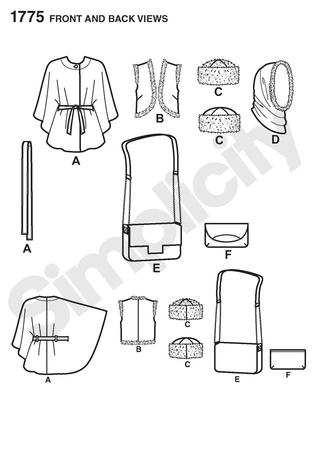 After creating the collage of plans, I had some time while everyone was busy. I thought I'd cut out the two top patterns, as I've sewn them both before. I ended up finishing the Sew Simple top in like an hour! Construction done on the serger, hems with a double needle on the machine.
BUT this one is a little snug compared to the other two! Oops! Should've checked the amount of stretch. It isn't unwearable by any means...just a little more snug that I'd planned.