I've probably mentioned my water aerobics class (idk, I'm getting old!) coming up next month. And my old swimsuit is 1) slightly too small and 2) a tankini and I really don't even like those things!
I think I bought it when I was all "but I'm a mom and so I should wear a one piece or this horrid thing" (even though I've been a mom nearly all of my adult life...) and now that I sew I get why I could never buy a one piece successfully! I am different sizes top and bottom and buying a suit meant sacrificing fit in one of those areas. Not to mention having a smaller frame with larger bust and it just never worked well.
ANYWAY, I decided I had to sew a suit!
In the stash I have: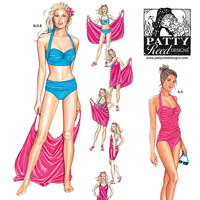 Simplicity 1374; I thought the gathering/ruching was very cute...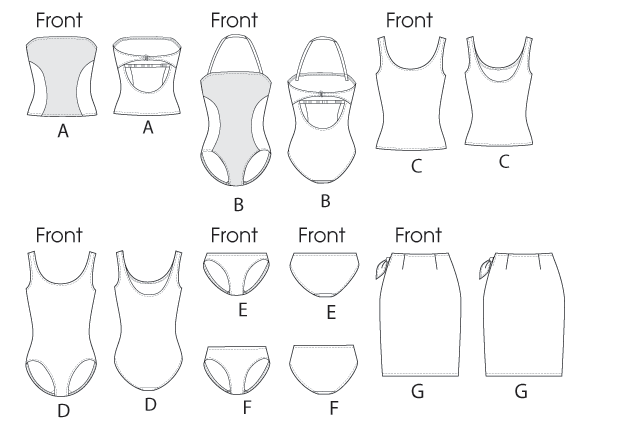 McCall's 6759: Which I planned to use for the one piece and then I opened it
only to find I had the size that ended in a 14 ;(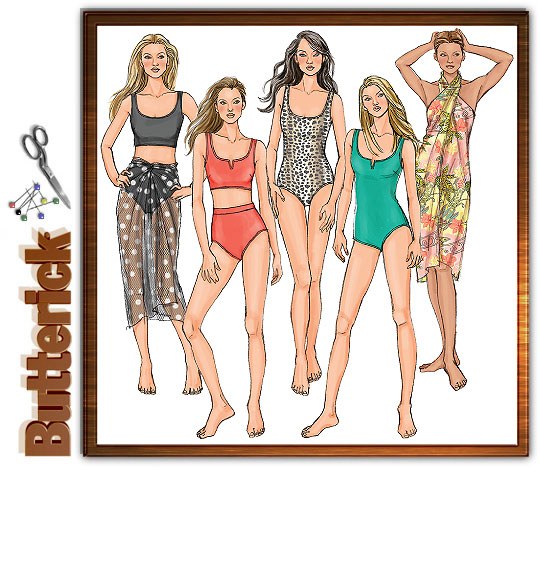 Butterick 4526: which I bought because of the one piece with the little cut out.
HOWEVER, this horrible pattern!!!!
I am being dramatic - a little bit. The pattern advertises cup sizing - yay! But that's only for the plain front. Seriously. The front with the cutout is for A/B cups and the plain front has a C/D option. How LAME is that?!?
So I decided I wasn't going to make that stinking suit. Yep. I am a 4 year old on the inside...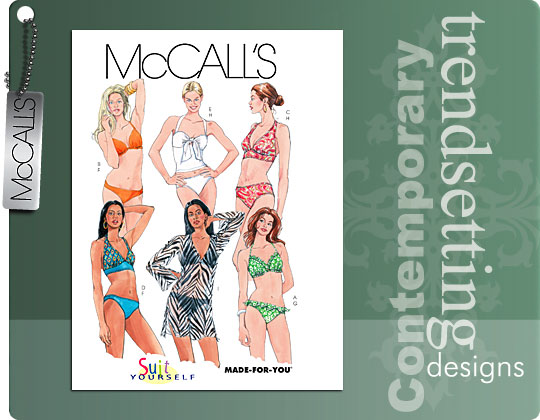 McCall's 5400: Bought long ago because it has tons of options and it has been made up quite a bit.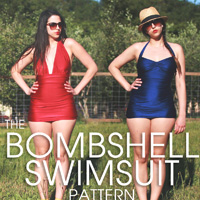 Closet Case Files Bombshell: Bought it; planned to follow along with the sew along. Decided not to...realized there was something I didn't quite like...
It's the butt ruching. I hate it. But then
SewBrunswick
recently sewed it sans back ruching and I like it more! I might sew it up this summer.
So. When I get an idea in my head I have to do it now, now, NOW! I was able to snag some swimsuit fabric for muslin'ing at a recent meetup and then realized I had some other scraps in stash (FabricMart bundles). I had no clue how much little fabric would be needed!
I started with the ruched bottoms from S1374. Now, in the photo below (they are striped) yes, the top will be ruched down a bit but still; they were HUGE!!!!
I then cut a size and a half smaller (the orange pair). The navy pair is a pair of RTW that are just a bit too tight.
I knew then that the 16 top in that pattern would be too big. So I pulled out M5400 and traced off view E, the longer top.
It was too long/too short -- too long to be flattering as it hit right at the belly fluff! Ugh. But too short to just smoothly fall. I would have to make it a true tankini type top and have it bubbling around me in the water which I DID NOT WANT. So I decided to go shorter and make it more of a longline length.
No muslin photos as there was no lining, no support, no padding so uhhh...yeah :)
I'm organizing for a garage sale so pardon my mess :)
I cut a 16 bottoms (S1374, view C) and added an inch to the rise at the side seams as I like the sides nice and wide but don't like a high-waisted look (I don't have much of a waist!).
For the top, I did NOT have enough room in the cups but had too much room in the body so I went down to a 14 C/D cup and added 1" to the cup at CF tapering to nothing at the side seams. This worked out great! It is very unfortunate that they included cup sizing for full busted women but
no help on adding necessary support! WAH!!!!!
The strap at the neck is just bad. Far too long. I might turn them to cross back straps but for now I cut two 18" strips and it is tied at the back, halter style.
I lobbed 3" off the length of the center front tie. Also, the instructions have you leave part of the seam open near the end to turn it and then slipstitch it closed. I left an opening in the center and topstitched it closed -- the center of the tie will be wrapped up in the knot and not visible.
I added Dritz foam cups in size C/D to the lining (this was SO HARD!!!). Hubby had to unpick stitches for me on the first one, then I got the second one in fine. And when I re-did the other one -- success!
I also wanted to add elastic (like a shelf bra) once I realized I had no bloody clue how to do the boning in the sides. So the lower front lining/fabric was treated like one layer but I kept the upper lining/fabric separate. It's messy but it works how I envisioned. I also stretched the elastic while I sewed it here.
I read SO MANY blog posts that I can't even begin to share where I figured out what!!
I serged the lining to the fashion fabric, treating most everything as one piece. I then stitched as normal. I inserted my elastic by feel; attaching it to the wrong side of the suit with a zig-zag stitch and then turning in and topstitching with a zig-zag stitch. I followed the general wisdom to do a 1:1 ratio at the front of the leg and stretch through the crotch/back.
I will also add elastic to the top of the bra top and will hem it with my twin needle.
It certainly feels supportive enough for water aerobics as nothing seems to rise/fall/move while I'm moving around in it.
I am not nearly as eager to 'make a whole bunch of swimsuits!' as I was before I started! LOL!!!! Now that I know a 14 is more appropriate, I might try M6759, View B (with a thicker halter strap) as backup and I might post 'real' photos o_O we shall see.
And I might pick up M6569...Once you look past the pattern envelope
Because I could never wear a top or like that and would never wear all those ruffles and ruching...
...you see the gold mine that is view A!!!! That can be extended to a longline length and it already has the structure in place for padding/boning - yay!!!!
I'd like to get the fit of that top down and use it to make one of these cute bikinis with a flounce for vacation.