When the preview for January was released, this dress caught my eye immediately!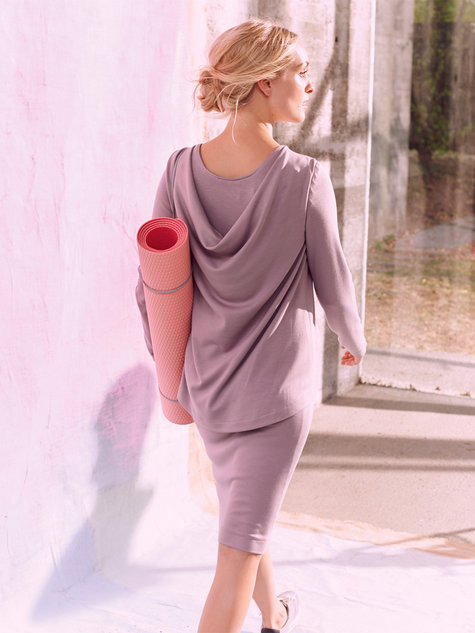 I was uncertain about whether or not I could pull it off...even though it's intended as a casual garment. I tend to stay away from things that are too oversized or too bulky. But I couldn't stop thinking about it! :)
And that Fabric Mart romp when I finally broke my 4+ month fabric fast? I got a lovely cotton-lycra knit in navy! That made me excited to sew the pattern AND nervous -- this fabric is so awesome (it's sold out, and I wish I'd gotten MORE). I didn't want to potentially "waste" the fabric on this pattern. But of course, I went for it!
As I normally do with knits with Burda, I cut a 40 neckline and armholes and graded to a 42. Except I did this on the tank dress but then cut the overlay a straight 40. Oops. It's a little snug across the chest and smashes the bust down a little.
BUT I LOVE IT! haha!
This fabric would have made a fantastic pair of yoga pants and as such is a little bulky where seams intersect, etc. I had to make some adjustments:
I did not turn the bands to the inside as intended on the front of the overlay and the entire neckline of the tank dress.
I didn't sew the tank and shirt together at the armhole and instead did some hand tacking at the shoulder seams (this keeps it in place just fine).
I did plan on just leaving them separate. But the weight of the fabric and the fact that the overlay is technically smaller than the dress..it was shifting around.
But another reason...the tank is a crewneck and no thank you. I like the fit of it though and maybe I can scoop the neckline for something wearable on it's own.
Because it's winter in MN and I work during the day...sort of crap photos ahead!
I cannot wait til spring as I will totally run errands in this! I love the draped back so much!!!! SO MUCH! I love how it's intentionally slouchy!!
I did a serge-and double turn-hem on the cowl
And serged and turned up once hem on the top, dress and sleeves
And I made another mistake! I never add hem allowances to the regular sized patterns but I did want to on this one because I liked the longer length! And then I forgot! grrr!
Totally fine with boots (and tights and boots, I'm sure), but I like it sporty. Either with tennies or flats when the weather warms up. You can also see here how it's a bit too tight across the bust.
The only downside to this luscious fabric, by the time it's really warm enough for bare legs and sandals, it'll probably be a bit too warm to wear. I can totally see remaking this in a lighter weight jersey or doing a solid dress and print overlay. Ahhhhh.
The outtake :)
So yeah...this one is a win, despite it's issues. And I laughed at myself thinking how the last two items were executed fine and fit fine but were "meh"...but this one has something wrong here, here and there but I am smitten! That's just how it goes.
A sneak peek of my next project. I've never done flat piping before.
What a fun little detail to add to a yoke!
Meeting up with the MinneSewTa group tomorrow; check us out on Facebook if you're local!
Until later...!