Well not quite. I have to hem my last B6066 dress and that is a success.
But these two items..there's nothing
wrong
with them. I don't
dislike
them...but I'm not moved by them, I don't love them, they're just okay.
I was so excited about M7199 when it was released. It was like so many RTW cardigans and like the popular Style Arc Marie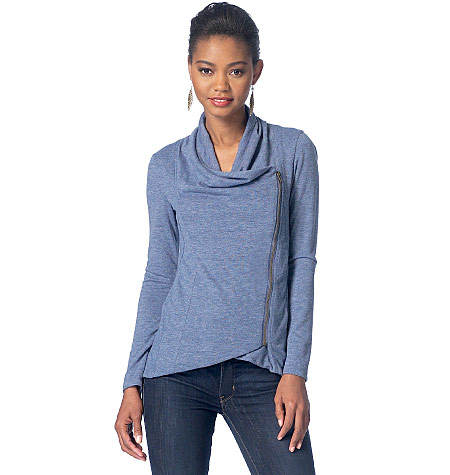 I had this striped crepe knit in the stash and a solid colored sweater knit that matched the darker color (the stripe). I wanted to make a shell and striped cardigan and decided this pattern would be a fun play on the stripes.
Everyone that made this mentioned that you'd want something drapey because of the large double-layered collar.
However, that was a no-go with the zipper.
The zipper was just too heavy (even with interfacing), it was TOO drapey for me and way, way, way too long.
I salvaged the zipper and tossed it. I decided to dive back in with a ponte but to skip the zippered version. And there was no way I was leaving it that long.
The back is MUCH longer than the front but I liked the shaped hemline. I couldn't figure out a way to keep the shaping but shorten the back as significantly as I wanted to. I started with removing 3 inches from the pattern pieces which did allow me to keep the front curvature but when I got the body sewn up that was still far longer than I wanted it to be so I chopped off ANOTHER 3".
That's SIX inches in back length removed!
I don't know about you but that pattern envelope does not make it appear that long. Yes, there is a back length finished measurement but still. :)
My ponte is a bit light and I didn't find it too heavy at the collar.
There's more 'swing' in that back piece than I like. Again, in retrospect this is obvious from the pattern piece. Not my favorite.
I like it open!
The facing is the front piece and lower side front only (not the upper side front). I edgestitched at the side seam and around the neckline to secure the facing.
I remembered that I had this white leather scrap in the stash and decided to DIY a toggle button closure.
My fabric is actually off-white but I knew this would work out okay.
When I wore it I figured out my mistake: The button side was supposed to be stitched on the other side of the seam. Ooops! That explains why it's a little too droopy in front when closed.
I love my top-stitching!
So again, no, it's not horrible or awful or the worst thing ever...but thus far, it isn't loved.
Following my January plans I cut out Simplicity 1374, which I mentioned was made before. I made it before in a cotton sateen type fabric. I decided to use this ponte for the color and had a matching zipper in stash so decided to go exposed zip.
Colleen G. Lea of Fashion Sewing Blog TV is theeeee best! I just love her tutes. Always clear and easy to understand!
You Tube tutorial
(nayy)
I've done an "exposed zipper" before because I thought: interface the area, line the zipper up, edge stitch.
Nope. Nope. Nope!
It's far more involved than that but OMG it results in such a beautiful finish!

I can't stop staring at it! :)
It totally took like an hour to insert the dang thing but I don't really "need" to undo the zipper to put the top on. But it's fantastic!
I did a 3/4" swayback adjustment, lowered the dart about an inch, and sewed it with a 2" hem.
The ponte had drape compared to the woven and it felt so unstructured. I thought a deep hem may help and it really did make a difference.
The NECKLINE! I do love that bateau on me!!!
Again, like the cardigan, just not a love. Nothing wrong with it, don't dislike it but...
I'm sure I'll wear it and absolutely love the color!