Didn't I *just* say at the end of my last post that I was going to try not to get distracted by shiny??
Sheesh.
In a FB group that I am in, someone posted some fall plans and it included the Decades of Style Three's a Charm jacket. I adored the lines but I always check Big4 and Burda before biting on an Indie pattern. Why? I know how they will fit and what adjustments I need to do. You all know by now that I balk at muslins! :-p
So I'm scrolling through the coat/jacket category on PR and see this: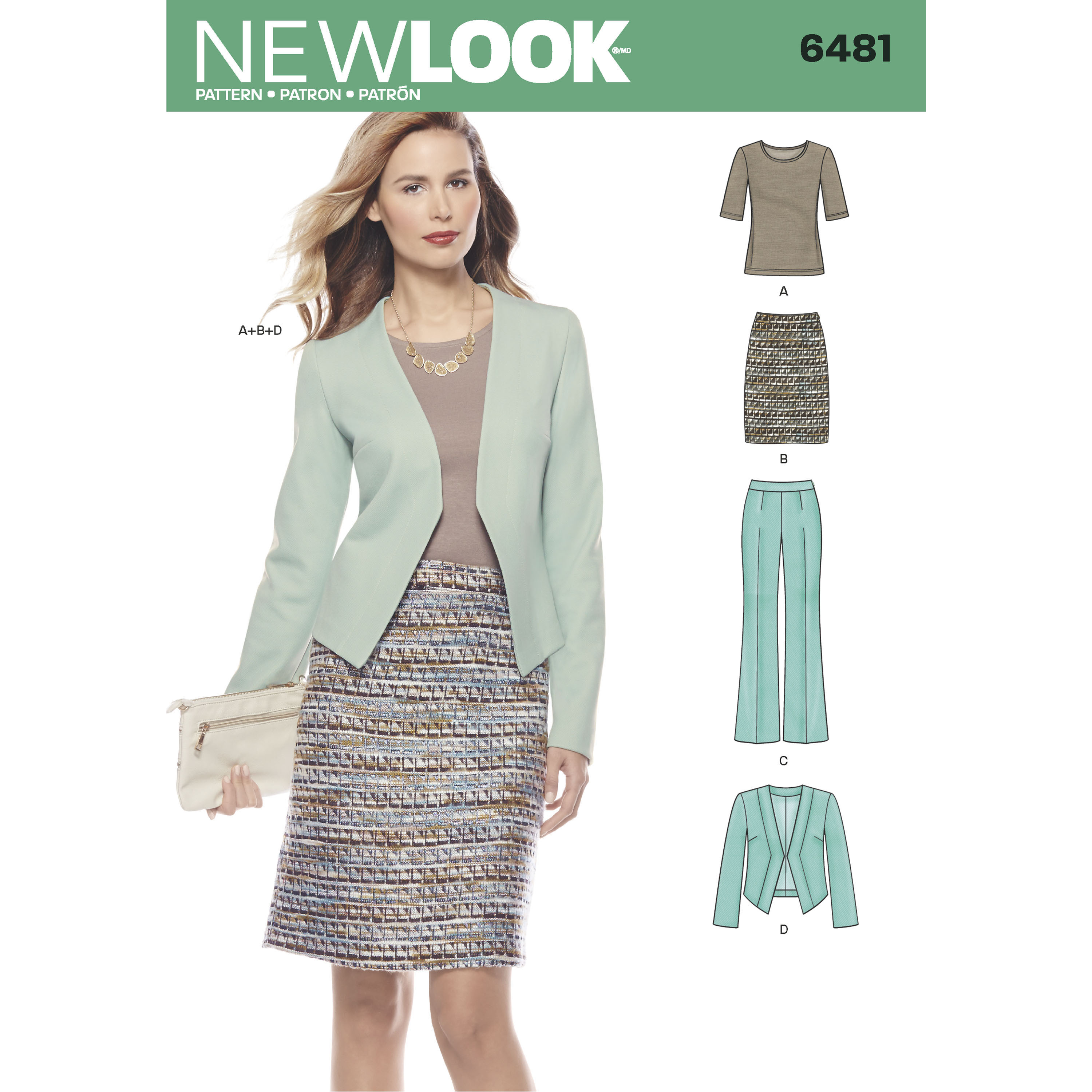 Wait what? I've never seen that pattern before!?! It's PERFECT! Turns out it was a new one from the Fall release. Lucky me!!!! I had to visit the JoAnn in the crazy busy part of town but I got it! And then I kept thinking about it and this suiting that would be perfect for a LBJ and yeah, I started working on it when I got off work Friday :)
Let's clear something up. A couple of people have compared it to the Grainline Morris. IMHO, not.at.all like the Morris. Okay maybe 'not at all' is a stretch. It's a slightly cropped jacket. It is a much closer clone of the DoS jacket. I made a graphic!
See?
Now, the Three's a Charm jacket offers far more opportunities to fit with all those wonderful darts (I really dig shoulder darts). And I prefer the lack of topstitching on the New Look (which you could of course, skip on the TaC. There are TONS of the TaC jacket up on blogs and I knew that I would never wear a jacket of this style buttoned so I decided to go ahead and gamble with the NL at $4.
However, based on the number of finished projects on such a wide variety of body types in an array of fabrics, I do think the TaC jacket could be a good buy at $12 for the PDF / $15 for the printed pattern.
Also, sizing on the NL vs DoS are comparable; The New Look is sizes 8-20 or bust measurements of 34-46. The Decades of Style is sized ABC but is for busts sized 30-46.
The big cheesy grin says it all - I love it!
I made a mistake right away with cutting. I very often cut size 14 and grade to a 16 at the side seam, eliminating the need for a shoulder adjustment. I then went and narrowed the shoulder 1/2". I have to add this back.
I did a 3/4" FBA and lowered the dart an inch. I also needed to move it back about an inch. The dart was sort of large to me so when I did my FBA, I had a
big honkin' dart
. I was surprised and redrew the lines to reduce some of the uptake. This was a bad move. I have folds but they are not because I need more room. When I pinch out just a bit more at the dart, the jacket lies flat.
I removed 4" in length from the sleeve and added a bit of width after measuring. I didn't do an actual full bicep adjustment because I thought it would be sufficient.
EEK!!
I'd set this very lovely pucker-free sleeve; I use lots 'o pins when setting sleeves:
Look at how smooth that cap is!!!!
And then I put the jacket on and holy moly was it tight!!!! LOL! I sat the jacket down, dejected and went to sit on the couch and drown my sorrows in a bowl of popcorn.
Revelation. Ok. Fine. Duh moment... CUT NEW SLEEVES :-p
I had 4 yards of this fabric snagged during a Fabric Mart sale. I'd paid $1.99/yd and thankfully, I did good. It presses beautifully and stitches up well.
After doing a proper 1" full bicep adjustment, I decided to add 1/2" to the sleeve cap. I'm not sure all of this extra was needed and admit that making this decision based on the too-tight sleeve was maybe a bad call. It's not bad but I can tell there's a bit of extra and it was harder to ease.
I can move!
The sleeve rotation - I notice this with jackets and then I had a lightbulb moment and remembered that Gail over at GKs Agenda
blogged a fix
for this. I'm going to try this on my next jacket.
I did a 3/4" swayback adjustment which is standard for me:
I like the back fit
And because of basically solid black fabric decided to just serge all seams. In a print or color where I didn't have matching serger thread I'd definitely bind that center back seam for a little interest.
I also tacked the facing down at the point, at the cb seam and at the shoulder seams.
Sooo I pretty much am in love with and am wearing it today. Wearing the exact outfit actually that I blogged (different jewelry!) :)
Once I get some more fall sewing done I'll decide on what color to add next. It looked really cute over this black/white M6886 dress I made!
The outtake: that plant was attacking me!