I had big plans to sew a dress to wear to the wedding this past Saturday and an outfit to wear for the 5K I participated in.
I wanted to Kwik Sew skort when it first came out! I thought I'd love it for my long walks. I picked up a couple yards of activewear knit from Fabric Mart and another yard from SR Harris. I initially planned to make the skort in gray and pink and
this
Burda tank top with gray bandeau and the rest in pink. I got the main part of the tank sewed up, tried it on, had a good laugh and trashed it. It was SO TIGHT! I may attempt it another time but not for now. I was going to sew the top from this pattern but lost my mojo (more on that later). I'm glad I didn't because I didn't even consider there would be a race shirt.
Also, I almost sewed up the navy activewear knit into the other view of this skort but I'm glad I didn't.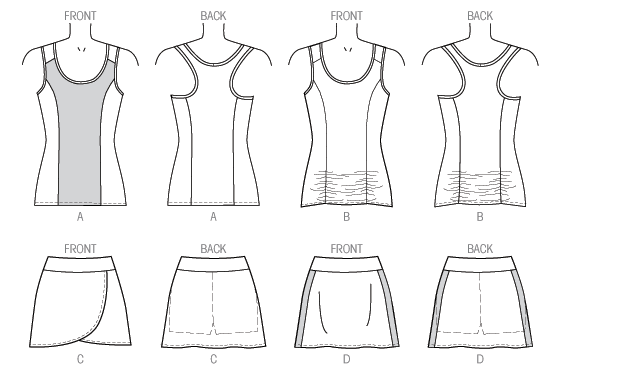 I sewed a size L (intended for hips up to 43.5" and my hips are about 43.5-44 inches. I removed 3/4" from the front rise and added 3/4" to the back rise of the shorts. I needed to add to the skirt back too.
One reviewer on PR mentioned that the shorts aren't snug enough. When I tried them on (several times!) they seemed fine. But during the race, no go. I had to continuously adjust them and it was so annoying. I will make another pair (or 2!) but not until I have some compression fabric to make the shorts from. Also, this knit was not wicking. Fine for the skirt but NOT for the shorts especially if your thighs rub together. I ended up having some chafing by the end of the race :/
The pattern though is fantastic. Everything went together really well and the design is pretty cute. I also really like the waistband width and how the elastic is applied. No casings, no visible stitching on the outside...the waistband/facing seam is sewn and the elastic is stitched just inside the seam line. And then you close it up and baste. I rarely baste things - just use lots of pins or in this case, the Wonder Clips came in handy. I think the clips are good for certain applications but I do not prefer them to pins...
Shorts and skirt are hemmed with a twin needle. I ended up popping the stitching on one side of the shorts. No doubt from yanking them down a dozen times.
Because of my OA (in both knees - boooo!), I can't run (yet). So I entered the walk portion and finished in 56:47.
It's so pretty!!!
Most importantly, we had a blast and have decided to make it an annual thing.

With Dolvett Quince from The Biggest Loser
As for my WDG...I was all set and SOOOO excited to work on the lace dress! And then I saw a couple versions pop up on social media and I was EXTRA excited.
And then, one day in the shower, I found a lump. I vacillated between *FREAK OUT!!!* and Eh, I'm sure it's nothing...When I went to my regular doc he said he felt it too, and ordered both a mammogram and an ultrasound. So, not unexpectedly, my sewing mojo was completely nil. On Thursday, the 4th, I got the all clear. But then I would have 8 days to get it done and I decided I was not up for rushing this project.
It'll happen, another time.
I ended up wearing my NL6123 dress that I made for my 4th anniversary, which we ended up not celebrating because I was out of town supporting my mom when her mother passed away.
This was after the ceremony so pardon all the creasing!
It was so fun to hang with the family and my cousin's gown was
ah-mazing!
A young woman from their church made her veil and I was there when she was deciding on length and number of layers, etc. I thought the dress was beautiful but it being on a hangar was nothing like it being on her body. Just stunning.
I have my fall planning post almost done. I have an insane "want" list and am trying to narrow it down to 10 must-have projects. I want a solid plan to fill some holes, I want some things because I just WANT them, and I want to try to avoid being too distracted by oooh! shiny!! :)