Today, Sewaholic posted about a pattern wish list - from the perspective of a designer - wondering what sewers are craving from the Sewaholic line.
When I read it, it also made me think about my own "wish list" - the patterns I'd love to have my hot little hands on.
So let's see...I would love to own the Renfrew and Minoru by Sewaholic, first. I don't even think I need to link them...there are a bajillion amazing renditions of both all over the internet. Go Google!! :) Initially I ignored the Renfrew, but it seems to be a great pattern and has tons of options for customizing the pattern.
OMG and then there's the
Anna
from By Hand London:
Image from:
http://dollyclackett.blogspot.com/p/blog-page.html
Image from:
http://www.missdibs.com/2013/09/by-hand-london-anna-dress-to-rescue.html
Trust me when I say to Google it or look it up on Pattern Review. Everyone's is AWESOME. But it's gonna cost me like $26 with the conversion and shipping. Uhmm...that might stay on my wish list awhile longer...unless PR ends up offering it (fingers crossed!).
Then there are the cute
Tania Culottes
from Megan Nielsen which Lauren made in an adorable winterized version.
Image from:
http://lladybird.com/2013/10/28/completed-winter-tania-culottes/
Of course, the BurdaStyle
Moto jacket
: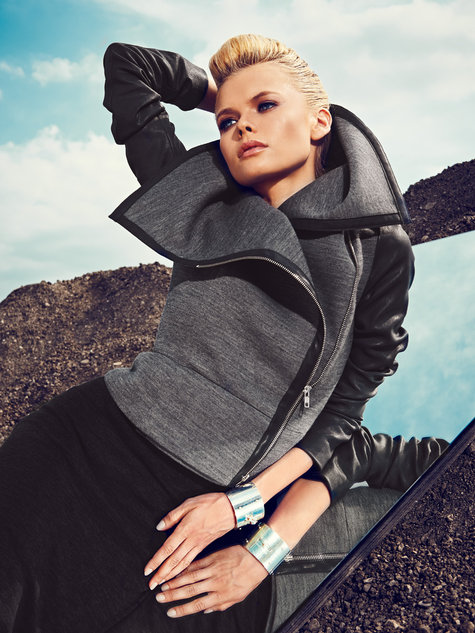 And this M5815 Jacket, which the pattern envelope = SNOOZEFEST but Kelly's version is ahhhhmazing and I must have. I just found the pattern on eBay - score!
Yawwwwwwn. Right?
and then...
AMAZINGNESS!!
Image from:
http://kellyssewing.blogspot.com/2013/01/wool-tweed-mccalls-5815done.html
Apparently the bow version was a Nanette Lepore knock off design...I can't wear a giant bow on my neck to work though.
And I would love to own, right now, the Liesl + Co
Woodland Cape
Pretty funky stuff there, that cape.
This weekend, I plan to finish the muslin for my jacket, rework this horrific top I cut last night, finish the royal blue skirt and...yeah. I think that's a good list :)