I mentioned sewing up some stuff for my mom. For several reasons;
1) she is even
cheaper
more frugal than *I* am and won't venture into new fabrics much, especially knits (but she loves knit tops/dresses).
2) she's kind of scared of using patterns
3) I am trying (apparently NOT hard enough!) to lose weight to save my poor, arthritic knees and am not into sewing too much for myself right now. I do plan on sewing some stuff that will easily transition a clothing size (like casual jackets, knit tops, a coat) but I hate doing alterations so I'm watching what I make.
Anyway! I made the M6996 cardi for her and decided to whip up a few knit tops/tunics. We are very close in overall measurements. Bust measurement is near identical except I'm a DD cup and she is a B. So I went with loose knits where waist/hip measurement is less important.
I was almost done with the last item but it was 8 p.m. on Sunday which is prettttty near my bedtime :-) So that one should be coming to the blog soon.
Vogue 8731 is a pattern that was gifted to me and I figured the easy style would be a hit with my mom.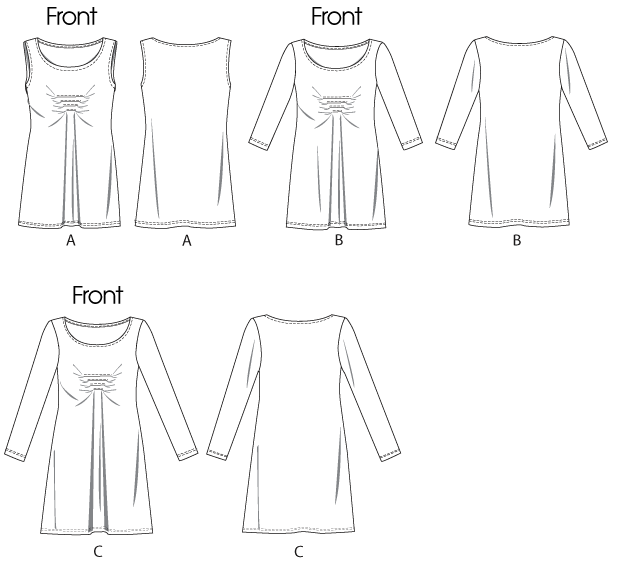 This is one of those rare Vogue's where all sizes are in one envelope so I
GASP!
traced her size off (a Large) because I might fancy one of those tunics for myself!
I used a cream/black polka dot ITY from Fabric Mart. She does wear poly knits without much complaint so I figured it would work.
See? It's kind of cute on me! Except my boobs remove all traces of that cute pleating.
My only complaint is all the stay stitching you're instructed to do. NO Vogue. No. I also set used binding (sewed flat) as they instructed you to use woven(!) bias binding. Sigh. (I will use woven bias binding on heavier knits like ponte, but not something lighter-weight like the suggested rayon-lycra knit).
Next up was a Tilton pattern. I've been wanting to make her some of these and may pick up a few Vogue's later. I was ALSO gifted B5925 (hey, I have awesome sewing buddies!)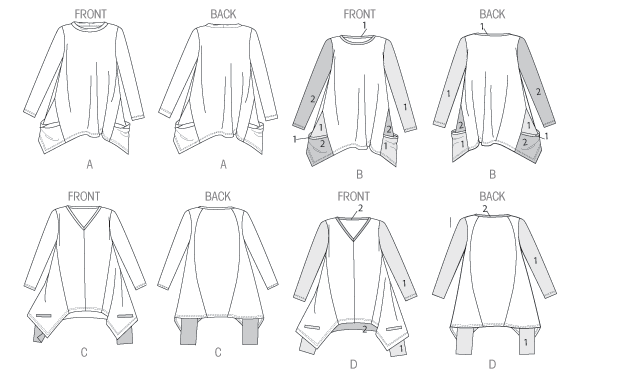 Again, I sewed a Large and had a heck of a time finding coordinating fabrics of similar weight in my stash.
I went with 3 ITY's, navy and 'bluebell' from FM and the print from SR Harris. I *really* wanted the body solid but did not have enough fabric. I rather like it though...
I
LOVE
the neckband/pocket treatment! I am starting to dig the interesting details in the Tilton patterns, even if they seem a bit too kooky at first glance. I am thinking of stealing this for a tunic of my own. I'll probably copy this patterns neckline to my pattern of choice so I don't need to think about drafting the neckband twist. That seems more sensible.
The sleeves on this were LONG. I hemmed them as stated and they were well past my wrist. My mom is 3" shorter than I am. I had already twin-needle hemmed so I just hacked it off and re-hemmed.
I actually attempted to match the side seam, even with the inset. I think I did alright.
(do you not love that neckband?!?!)
****************
I have ditched my existing coat plan. Sigh. It's too everyday. I want a fun jacket!
I'm not going full on winter coat (I'll save that for this fall). So there'll be no under/inter lining, etc. It'll be wool with a rayon lining. This will work well for those 25-45 ish type days that SHOULD be here soon (it was -9F when I got up today).
I've decided on S2508 (OOP).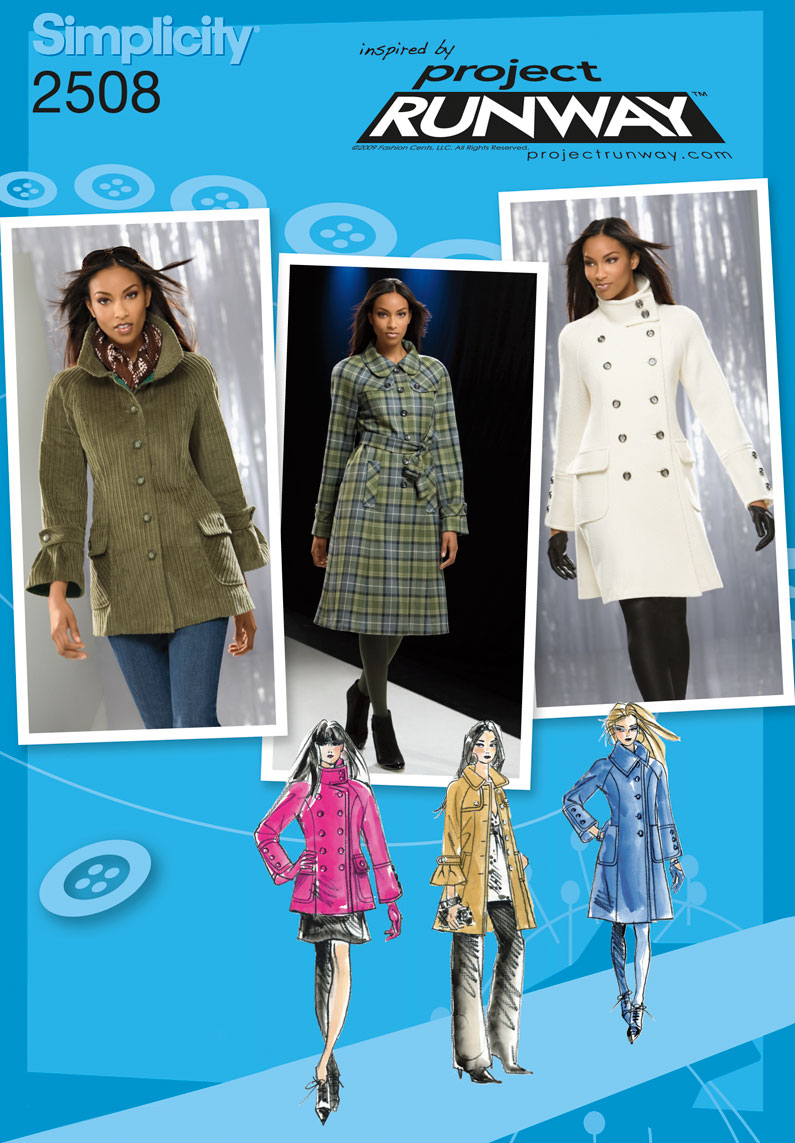 I would like the cool coat of the lady in the lower center, but will have to see if I have enough fabric. Otherwise I'll be going with Ms. Pink on the left.
The sleeve ruffles grew on me fast
But this looks interesting and kind of different
While the fit seems to be decent on these PR patterns, I DESPISE the back of the envelope!
I am completely oblivious as to whether or not I have enough fabric because every.single.detail. is given a yardage. But continuous yardage is far more efficient than separate so I'll have to lay the pieces out and see if I can use my hot pink coating or if I will need to use the black/white herringbone.
To be continued...