Friday after work I stopped at Hancock and sitting behind the register was a McCall's box. I was very nice and sweet and BAM! the cashier opened it up and the new Butterick's were inside, just waiting for me ;-)
I am *supposed* to be sewing a coat for transitioning into spring. The pattern pieces are cut out; I just need to get started on it. But I could not resist B6183! I almost sewed both the top and pants but cropped pants are still a ways away, weatherwise.
It has cup sizing! YAY!!!! So I cut a 14 D cup and did my normal Big4 adjustments; a 1/2" narrow shoulder and a 1/2" swayback (I added a CB seam). Also, princess seams always need to be lowered. I moved these down 1".
There are so many seams! Eesh!
It's meant for wovens but I used ponte just in case because I WANTED it but did not want to muslin it. I think it worked out well.
Wait...The size 14 had a finished sleeve bicep of 13.5". YOWZA. I added 1" by just slashing and spreading. I would lengthen the sleeves a tad next time.
Lastly, I did not use a zipper - it just wasn't the look I wanted with this one, so I used an elastic loop/button closure at the top.
Anyway - I LOVE THIS TOP!!!!!!! I am definitely wearing it tomorrow to work!
The sides are "jutting" out a bit. I will straighten them next time.
(pants are Simplicity 2061)
The bust is VERY fitted. I'm going to give it a shot in the future in a woven but unsure about it being so highly fitted and woven...
Next up, when I was NOT working on my coat, I pulled out the Burda mag for February. Originally, I had planned on a jacket for my project this month. But decided that a coat, a jacket and jeans for one month (and a full social calendar) would be pushing it.
I fell in love with this cropped top when I first saw it and talked myself out of it because hello,
cropped. top.!
Uhm yeah. I LOVE it! :)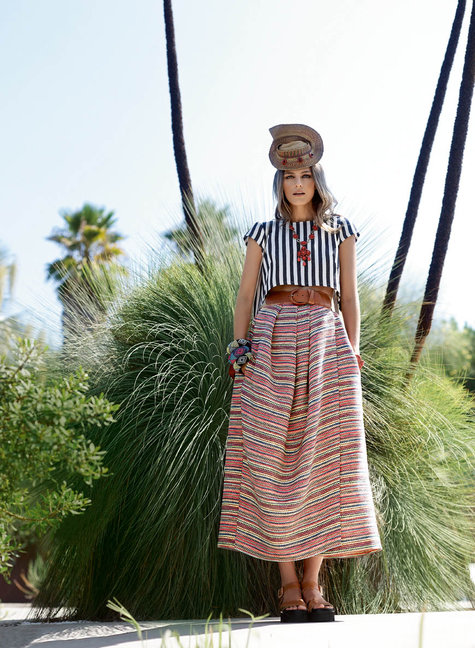 This is a petite pattern and I went with my normal size 42. I should have done a narrow shoulder adjustment and didn't. It's not too bad though.
Excuse my tank tag!
(pants are V1411
The neckline is pretty high and I prefer it with a necklace
I used a snap!
And polka-dot bias tape!!! :-D
I am seriously in love with this one. Gah!
Ok, if you don't speak "Burda", the instructions on this one aren't THAT bad, but in a nutshell:
1) sew front darts
2) sew shoulder seams
3) hem sleeves
4) sew sleeves (they do need to be eased a bit)
5) hem back opening (or sew it shut; whatev)
6) sew side sleeves
Then sew bias tape at neckline and underarm and hem. I think the most essential part that it may be easy to graze over is that you do yourself a WORLD of good if you hem the sleeve first and sew it in before sewing the side seams.
Fabric is a linen/rayon lightweight suiting from FM and it sewed AMAZINGLY! I'm so glad I still have a yard plus of this stuff left!