I was on the fence when this pattern came out and then super cute versions started popping up and I had to have it!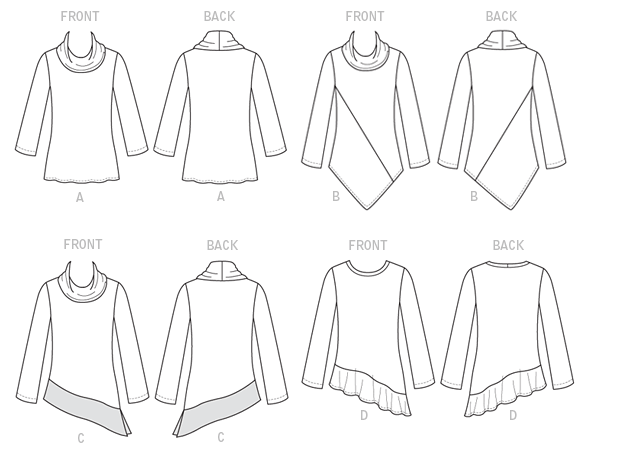 I really like the angled hem in view C and may make that one at some point. I don't know how I decided on view B honestly! I think because I was thinking of this one as lounge wear and had a 'what the heck' moment.
The overall fit of the tunic is so awesome that I don't mind the pointed hem; but I won't be making that view again. It's just weird!
First things first; I made a mistake. I reversed the side of the point! In the grand scheme of things, it doesn't matter, but I'm not sure how I managed to do that. Oops!
I constructed this entirely on the serger, choosing to set my sleeves instead of doing them flat (I prefer to set them with ponte). The construction went FAST and then I think it took as much time to press up the hem allowance than it did to put the whole thing together.
I decided on the shorter sleeve length and finished the hems with a twin-needle stitch. I did not topstitch around the collar as suggested.
I *just* have enough room for my butt! If I were to remake this view I would need to slash-and-spread on the lower back pattern piece. It's worth noting that the flap is the same piece for front and back.
I wear leggings under tunics/mini dresses. I am anti leggings-as-pants!
See how PERFECT it would be with an even hem?!? I must sew view A!
I highly recommend this tunic!!! It is close fitting for those who feel there's "too much ease" in many patterns and it went together so quickly and easily.
I'm wearing it right now <3
*******************
I'm on Rocksbox #4 and am loving it. The last box I got was so-so. The pieces were cute but not really my taste. THIS box is ME.
I cannot wait to wear those earrings and I don't know when or if I'll take the cuff off! :)
You can get a month free by using my code: nakishabff at
Rocksbox
*******************
Lastly, my son had his first orchestra concert of the season. He rarely takes pictures and especially not with MOM! There were some where we were both looking at the camera but this one melts my heart.