I never got additional pics of the dress soooooo let's just discuss the particulars, shall we?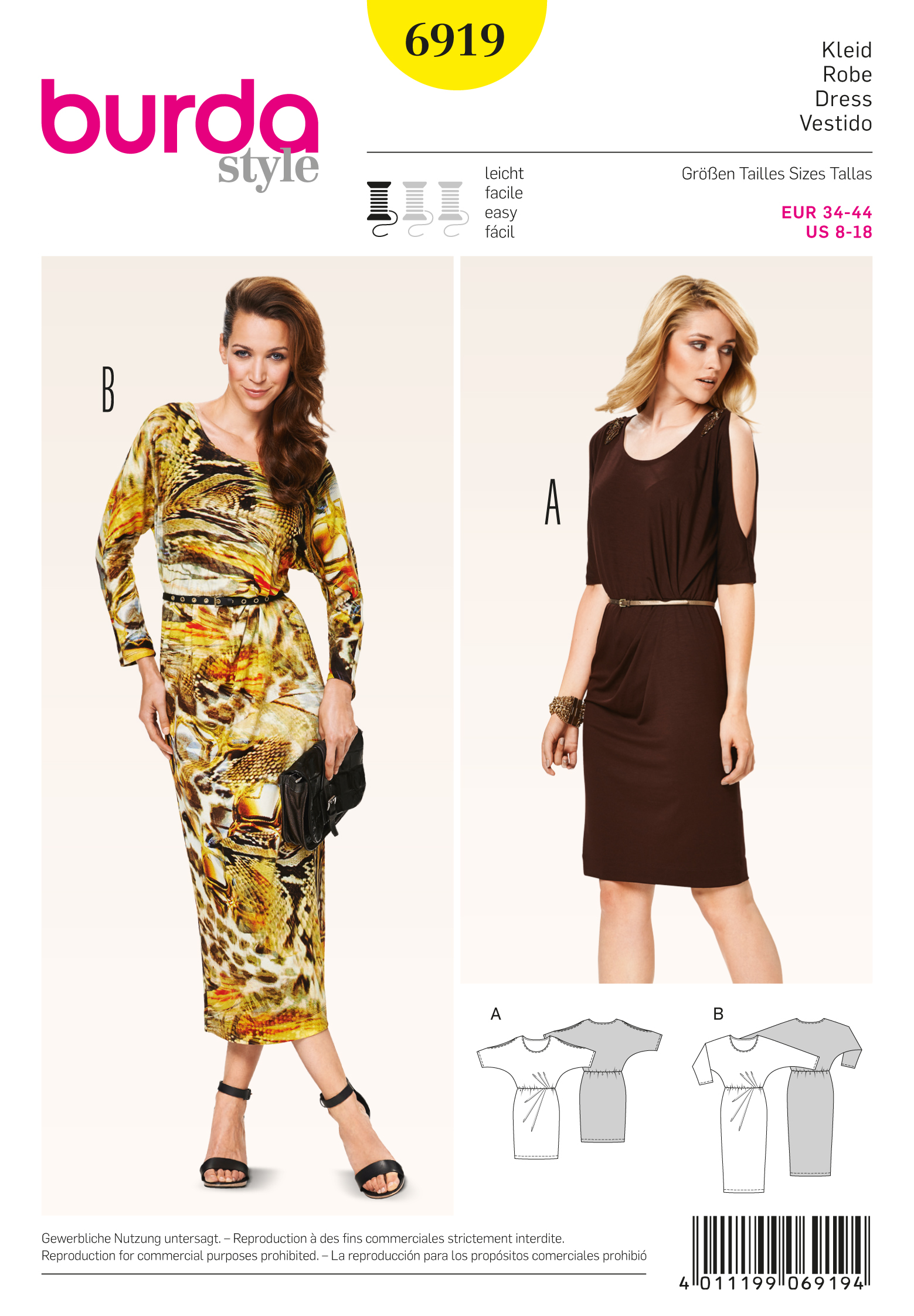 "
Must-have dresses with integrated kimono sleeves, narrow skirt added to the bodice, fitted to the waist with an elastic casing and charming fan-shaped waist folds. Dress A has striking shoulder seam openings."
I love Burda's descriptions! hahahaha! STRIKING SHOULDER SEAM OPENINGS!!!!!!
I cut a 14 neck/shoulders, 16 bust and waist and 18 hip. I used black ponte that I scored nearly 10 yards of when Fabric Mart had a sale. So I might be doing All Black Everything! (music reference) :)
Construction of this is very straightforward. The are where the bodice and skirt pleats meet is
so insanely bulky!!!!!
I definitely had to baste and take it slow going over that section.
I chopped 2.5" from the hem, and didn't add the elastic at the waist. I would probably never wear it unbelted. Something went haywire with the neck binding so I ended up turning it to the inside and topstitching - problem solved.
THOSE ARM OPENINGS! That is probably my only gripe with Burda - mag and envelope patterns - they think everyone has super svelte arms!
I loved wearing the dress and think it's a fun LBD to have in my wardrobe!!
**********************************
I've been wanting to make my coat but my hand has been kicking my behind and cutting all that heavy fabric is not in the immediate future. Soon. SOON!
I went back and forth and back and forth on whether or not I was going to sew something to wear for Thanksgiving. I knew we weren't going outside (it's 7 degrees F. Seven.) so I was going to make a dress or skirt but I need to get more practical with my sewing so I went with a new shirt!
Even though the mercury is way lower than it should be, it's still fall darn it! I sewed up one of the shirtings I got with my Fabric Mart dollars using Burda 7136. I mean, I
just
used it, so why futz around with something else?!
The pattern calls for 1 3/4 yard of 44" fabric. Ignoring my plaids (which I had to do), I still had to do acrobatics and cut some pieces on the cross grain!
Sheesh.
I cut the fronts single layer and did it matter? nope. Still off. By like 1/2!!! But I love the shirt enough that it doesn't bother me.
This fabric is COZY. It's super soft and washed and pressed like.a.dream. Still a few yards available at $4 per. (
here
)
I did my FIRST ever bicep adjustment! It's a silly fiddly one but - yay! My arms are not constricted by my sleeves. Whoop!
See the off-ness of the plaid? Meh.
Somehow I managed to have 13 matching buttons in my stash. I have realized though that I'd like slightly smaller buttons for my sleeve but I only had what I had. Because my hands have been hurting I sewed the buttons on by machine, pulling the threads through to the back and tying a knot.
Look at those plackets! ;-) None are backwards - yay!
Last time something wonky happened with my collar and here I feel like it's a little short. Eh. It'll be alright. I did a narrow hem, like usual.
I decided it SHOULD have navy topstitching because? I like blue. The directions have you stitch the front bands down, then just turn that section up at the hem. That is not so clean. I did it so the inside of the band at the hemline is enclosed.
I have room for my arms!!!!!!!!!!!!!
I wore it with my V1411 legging-pants today for Thanksgiving. Plenty of room for turkey and stuff.
DD picked out my necklace and loved my cocktail ring.