I've been a busy blogger! But April was a crazy productive sewing month.
I sewed 19 yards this month!
(well...I sewed 17 and gave away 2)
Burda Mag Illusion jacket - 3 yards (colorful boucle and black ponte)
S2826 pajamas for K - 1 yard (zebra)
S1619 capris for DD - 1 yard (black ponte)
S1416 bra top (3 of them!) - 2.25 yards (chambray, madras, b/w polka-dot)
S2601 pants (2) - 2.25 yards (b/w ponte, black ponte)
S1916 tops (2) - 2.25 yards (blue animal print, black/tan lace print)
No pattern used pencil skirt - 2/3 yard (black/tan lace print)
Burda Mag 11/2012 top - 1 yard (pink b/w stripe)
S1430 shorts - 1 yard (black sateen)
Burda Mag 02/2014 skirt - 1.25 yards (denim)
Lekala skirt - 1.25 yard (khaki twill)
Blog giveaway - 2 yards (white gauze)
I swear I am mailing the packages. They have been in my tote bag since forever. I am sorry!!!
**Thanks to Vanessa's super helpful comment, I will add 'fave of the month' to my wrap ups. This should also be interesting when I evaluate how things are wearing and at year end.
April's favorite make: Simplicity 2061 knit pants. Seriously love 'em!
How many yards of fabric did I ADD this month? Well...Uhmm...you see...
24 yards. And nearly 6.5 of that is my daughters (see below). Parity. Again!
Dear Self:
Stop being a Faker McFakerton. You do not know how to fabric fast. You cannot resist the allure of a new, pretty fabric. Right now you want to order some of that awesome emerald greenish ponte on FM. Because it would be awesome. Awesome as a blazer. Oooh...a knit blazer. Uhmm...Yeah. You suck at not buying fabric.
Signed,
Self
I am actually not going to spend
the majority of
my sewing budget on fabric for May. I need notions! I have no black zippers. How can that be?!? I also
need
want several Burda (on sale at Hancock starting today!) patterns and several of the new Simplicity patterns. So...
************************
I am determined to get the girl interested in sewing while she's still young. Determined!! She needs a dress for a banquet and I had her go through the stash to find what she liked. Knowing I didn't have her size in the patterns she was choosing, I was really just getting a feel for what she liked (and didn't like).
Vogue 8848 for knits








McCall's 6886 for knits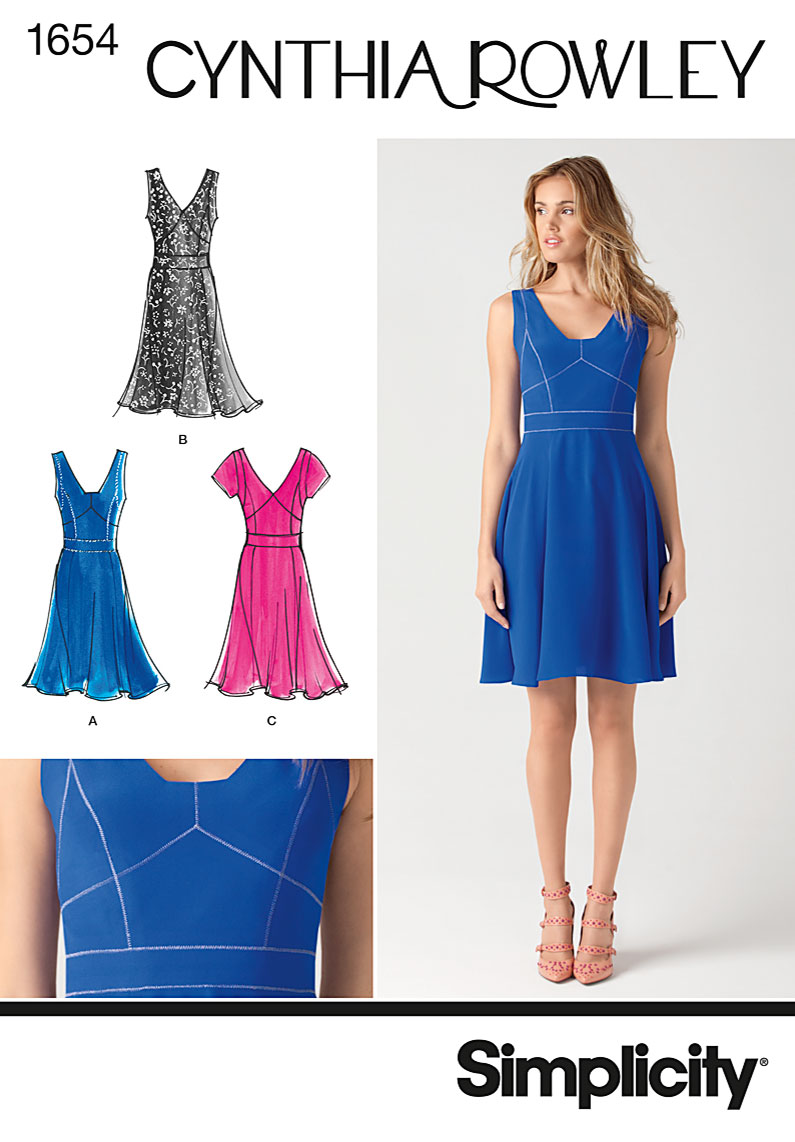 Simplicity 1654 for wovens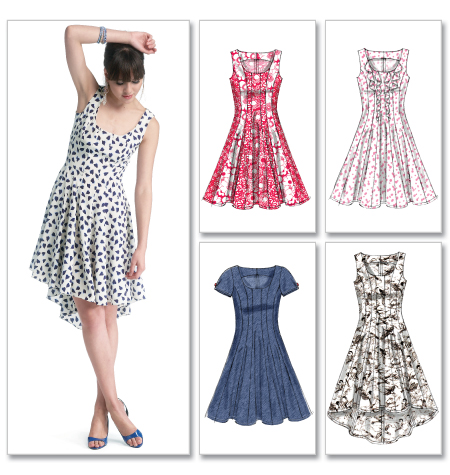 McCall's 6504 for wovens
What I discerned:
Higher neckline required
Sleeves were a must
Approximately knee length
3 of 4 patterns chosen were flared skirts
She did not love the neckline on 1654 and she didn't love the sleeve on M6504. Mama didn't love the crazy amount of seams on either, for something to be completed on short notice and for someone who I swore off making anything fitted for ;-)
So, I have decided on S1699 for her woven fabric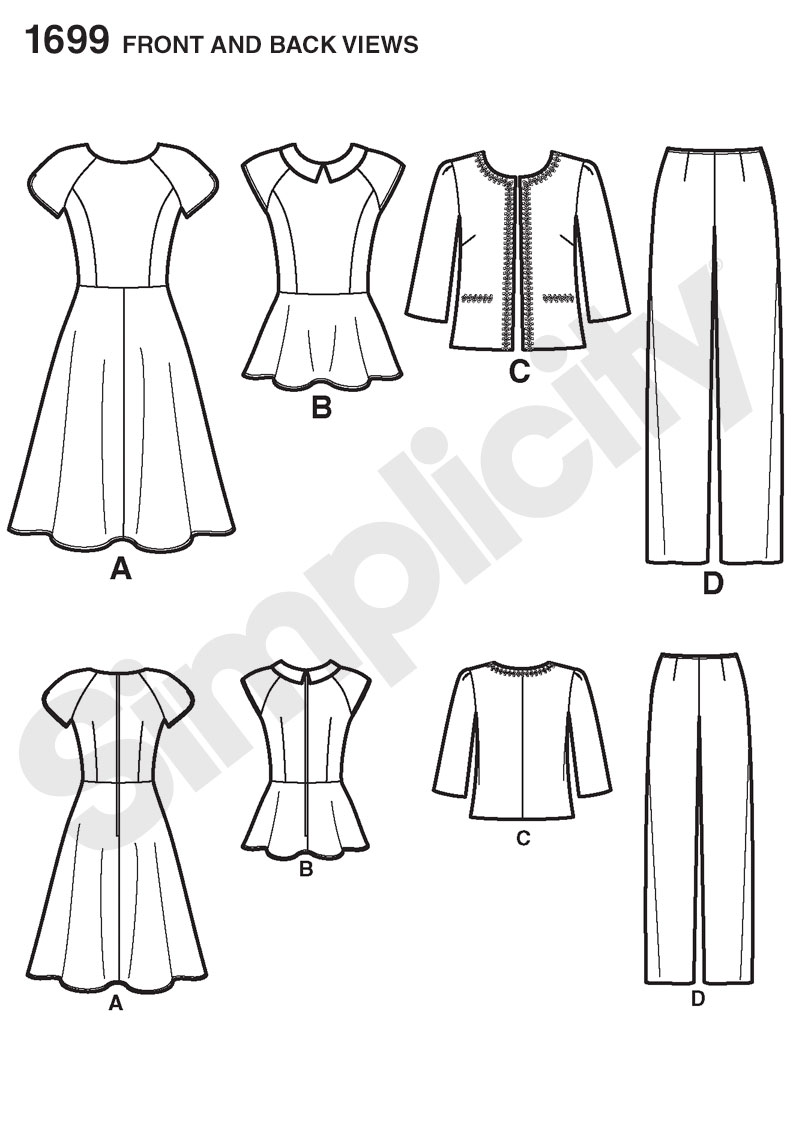 I think this dress accomplishes everything, well, and I have her size in the pattern I own. Also, I can work up a quick muslin of the bodice since it's only a few pieces.
As for the knit, I chose the Lady Skater by Kitschy Coo.
The Vogue dress has those crazy seams (cute but not right now). The McCall's pattern goes together QUICKLY but I do not have her size and that pattern is really designed to be figure hugging. I don't think she'd like that when it's on her body. I might use the pattern for a t-shirt for her though...
((This child actually told me to "make all 4 dresses" and she'd choose which one she wanted to wear. Uhmm. No.))
I told her she could pick her fabric. To SR Harris we went!
Blue (not purple) knit for a tshirt, plaid cotton for a button front, boyfriend style shirt (NOT fitted!), Mint (it looks so washed out here) cotton/poly blend with an embroidered-like floral patten for S1699 and a deep purple/plum rayon knit for the Lady Skater (plus enough for a top for me!)




You know I couldn't resist. Cotton shirting in white with a black/red circle pattern, cotton voile in something close to radiant orchid, cotton voile in a not-quite-celadon green, an awesome printed chiffon from the $2 bin for a scarf.
Every single one of these babies are washed and the cottons ironed. What all can I get done for May?!!? :)
And a fabric shopping "selfie"! :-)
OOOOH, lastly (sorry for a mega post)
I, Nakisha, of www.sewcraftychemist.blogspot.com, sign up as a participant of Me-Made-May '14. I endeavor to wear at least one handmade garment each day for the duration of May 2014