And in progress and in progress...It's okay, it's not necessarily a bad place to be! :)
I know enough now
to be dangerous
not to judge the fit of a garment completely before finishing details (like sleeves) are added. Extras, they change things.
So, to my New Look muslin I added the facings and bias binding to one of the armholes (I'm going to cut and sew a sleeve to the other side).
This is a selfie so I don't think that pulling right under the arm is "real" as it doesn't pull when it's on.
Ah-ha. There was what appeared to be gaping in the front, that went away when the facing was applied. This however is crazy. I can grab like 2-3" of fabric back there.
So, do I take tucks/darts on the garment or do I do a slash and overlap on the paper pattern?
Also 'in progress' is the Butterick 5678 top I started waaaaaay back in like October. I got mad at it and quit it. It's amazing how a few months changes things. I was thinking, WHAT IS WRONG WITH IT. But the hip is 43.5", my hip is 44", that's why it wasn't comfortable on. Luckily the side seams are just basted so I can take a little extra room.
I think I will wear this top but want to try ONE MORE TIME and use the 16-D cup (what this is) with a narrow shoulder adjustment and swayback adjustment. Almost there. It will not be a "muslin" though...definitely wearable.
Yep. BurdaStyle tracing sheets and -the horror!- an empty tracing paper roll :)
Almost perfect collar point! aargh!!!
It was when I took this pic that I noticed the pucker.
Stupid pucker
I hope to finish the top this week and sew the NL dress in the fashion fabric too!
Last week after realizing the boxy top was a no-go, I went for fast and easy :)
I pulled out the 11/2012 issue of Burda Style Mag (BSM henceforth!) and traced off this top.
11/2012 #136A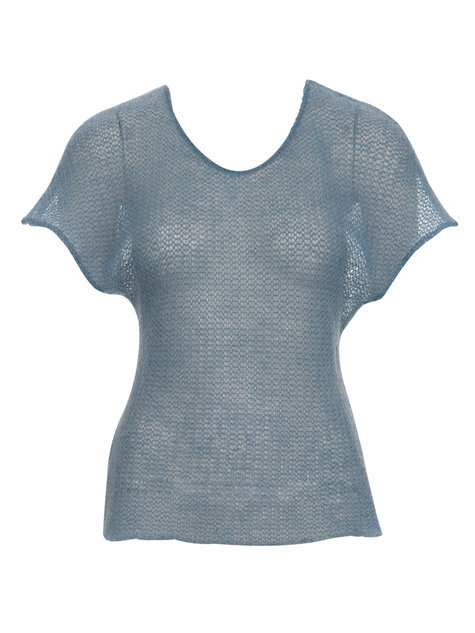 I do love the mohair version!!
I started with this crazy mirrored knit and loved the shape so much that I cut a second in this polka-dot ITY.
Pictures are crappy; the tops are awesome. I want to make it in a sweatshirt knit next!!
Lastly...Burda is good. I know long term subscribers can be disillusioned with them but...seriously, this Plus issue makes me drool. I can wear plus size bottoms but not tops. I definitely need a 40/42 in their tops. boooo!
**Today I have to get cortisone shots. If I can't sew I'm going to cry. Real tears.