Ah but wait!!!! GIVEAWAY WINNERS!!!!
THANK YOU for all of the positive messages on my sewing/blogging anniversary post! I really love interacting with everyone in the sewing community!! All of you awesome ladies really enhance what is a gratifying
way of life
hobby! :-D
:Drumroll:
Prize A:
A free PDF pattern from
In House Patterns
Accordion3 is the winner!!!!
Send me your email address and pattern preference and I will get it to Alexandra.
Prize B:
A 3 pack of McCall's/Vogue patterns
Carol G is the winner!!!
Send me your size preferences for V9032, M7093 and M6996 and your mailing address.
Prize C:
A $15 gift certificate to Fabricmartfabrics.com
Myra is the winner!!!
Send me your email address and you will get the gc info directly from FabricMart
I gotta tell you; random.org REALLY wanted Shams to win! Haha! Her number came up more than once! :)
My email address is sewcraftychemist --at-- gmail --dot-- com
******************************
Nearly a year ago, when the spring New Look patterns were released, I was all aflutter over 6261. I
muslined it
(!) because I wanted to make it to wear to a fundraising event. But I never did.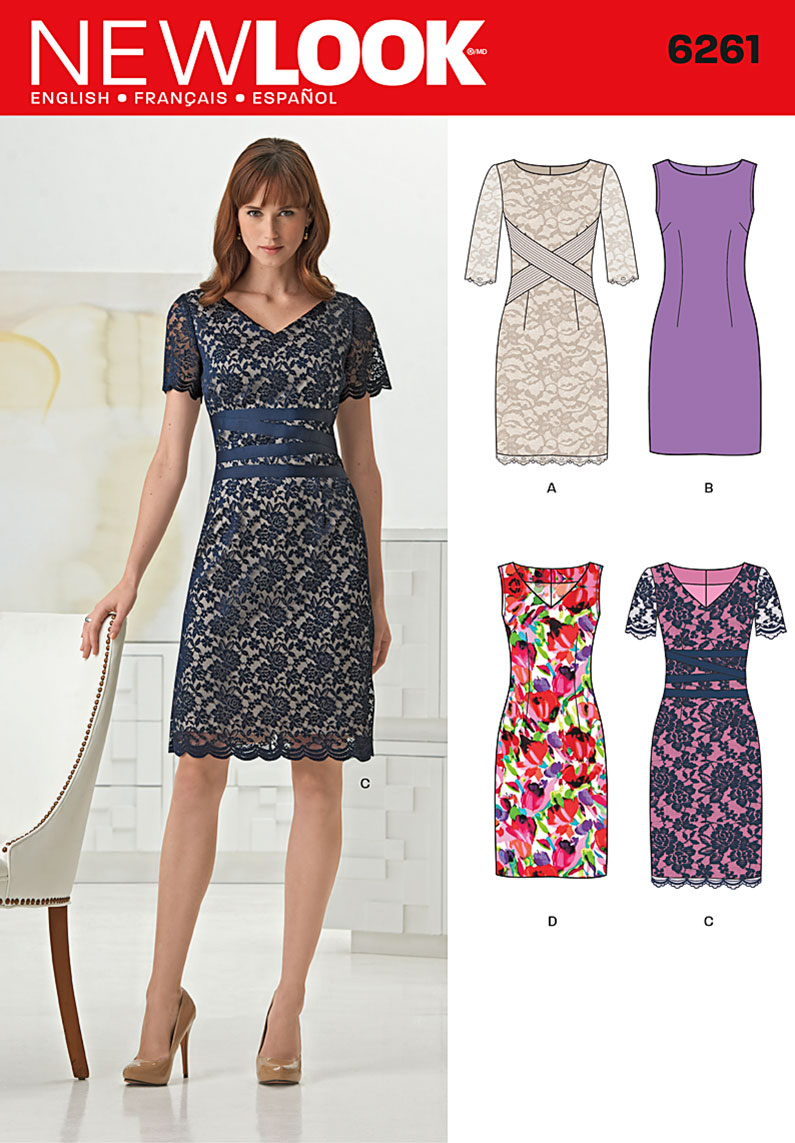 Browsing online, I came across this Tadashi Shoji dress:
I decided I had to have a black lace/nude lined dress!!!!
((Apparently this pattern was completely inspired by Shoji??))
Anyhow, I remembered the nude (latte) ponte in my stash and set out to get lace. I very, VERY rarely buy fabric from Hancock or JoAnn (ok, I will probably never buy fabric from JA again...) but I didn't have time to order anything and didn't feel like driving to SR Harris.
There were several nice laces at Hancock and initially I was going to go with a stretch lace and lo and behold I found the beautiful, ever-so-slightly-metallic lace print.
And then the lady at the cutting counter said it was $2.39/yard.
WHAAAAA?!?!!? SOLD! I bought all 4.25 or so yards.
And THEN it occurred to me that I had THAT pattern! And THEN I remembered that I had already muslined it!
I mean, the stars were truly aligning in favor of this dress.
I really wanted the bands :( But they were fabric strips cut on the bias and topstitched with 8(!) rows, each 1/4" apart. There's no way I had time for all that.
I REALLY liked the look of 1.25" grosgrain ribbon that I had in stash (I have an enormous ribbon stash from my defunct Etsy store!) but I did not have enough to do the bands. I settled for 3/4" satin ribbon. I like it though...Jazzes up the front a little bit.
I did a decent job fitting my major swayback and look at how nicely the back neckline is lying!!
Do NOT look at my tummy pooch. ;-)
I wasn't sure but yes, my right dart is really a bit further than it should be.
Hard to mark that lace...
But my invisible zipper! <3
If you're afraid of invisible zippers; don't be!
Get an invisible zipper foot and it becomes the easiest zipper to install!
I was going to have sleeves; leaving them unlined. But hubby thought it looked odd because the "nude" of the dress did not "match" my darker "nude" arms beneath the sleeves.
Did I give you enough quotes??
I said, eh. that's fine. I don't need to be setting lace sleeves ANYWAY. And I used storebought bias binding. But knowing I wanted no visible stitching, I hand stitched them in place.
yes. Another thing I said I hated doing which I now relish. Go 'head, shake your collective heads and say "told ya so" :) I did a really quick catch stitch on the facing.
Other notes:
I sewed a size 16 with 14 neckline. I didn't need an FBA. Go figure.
I did a 1/2" narrow shoulder adjustment and 3/4" swayback adjustment.
I removed about 3/4" from the back neckline tapering to nothing about mid-way between neck and waist.
I used lightweight fusible on the facing and interfaced the zipper area.
wait.
I have seen Wash Away Wonder Tape talked about but WHYYYYY did no one tell me to stop what I was doing and immediately get some in my stash like at that instant? Why?!?! That stuff is AWESOME!
I probably used WAY too much on this project but OhEmGee I did not have to do a million, zillion miles of hand basting! WIN!
I entered this in the Bargainista Fashionista contest on PR. I wasn't going to but since I completed this dress for just around $10 per contest rules (~$18 if you include zipper, pattern and bits and bobs) and the Tadashi dress is $228; figured I may as well.
When I slipped the dress on, it felt SO good. I love being able to create everyday basics, but times like THIS is when I am really all warm & fuzzy about my ability to sew.
The outtake:
I got a ton of compliments and a crazy amount of double takes. Okay guys, do I really look that bad Monday-Friday?!?! Hahahaha
As styled (Mirror selfie--sorry!). I wore pantyhose too. I abhor pantyhose. Especially control top. ::insert violent looking emoji:: but I waited til the last minute and had to go to Target.
this necklace was the perfect (simple) accessory.
Side swept hair is "my thing" for going out.
And soft makeup.
My arms look very glowy; even though it's only 32 degrees in Minneapolis!