YAY!!! Today, when my husband got home, he said he had something for me. He had a very nice card and it only took me a quick second to realize today was April 2nd!
You see, we met on May 2nd.
He proposed on April 2nd.
We got married on October 2nd.
And we lightly celebrate all 3! :-D Well, a couple of weeks ago I sent him a link to the machine telling him it had the features I was looking forward to in the Brother PC420 and was much less. Plus, it's a Singer and all of the feet that I've amassed will still work with it. And I said soooo can I pleasssssse get it in April??
You see, this is courteous. I have a budget for sewing but I didn't want to make what may seem like a frivolous purchase with all of the expenses we have now (my 2 teens, his 2 teens, there's a lot of money pouring out monthly!).
And today he surprised me with it! SO sweet!!
It's a Singer Stylist 7258 and has a lot of features for the price! Plus it's a Consumer's Digest Best Buy winner and has lots of positive reviews.

I am really looking forward to getting acquainted with it!
Includes 9 Basic, 8 Stretch, 76 Decorative and 7 Fully Automatic Buttonholes. A large variety of stitches for all types or sewing, such as fashion sewing, quilting, heirloom, crafts, home and decorative sewing
Push-Button Stitch Selection
Select the desired stitch with just a simple push of a button. Optimum settings for length, width and tension are set automatically.
6 Fully Automatic 1-Step Buttonholes
Buttonhole sewing is a one step simple process.
Automatic Needle Threader
Sewing's biggest timesaver!
Programmable Needle Up/Down
For easier quilting and appliqué, select whether the needle is up or down when the machine stops.
The lamp illuminates the sewing surface for optimal viewing.
Start / Stop Button & Speed Control
For your added convenience and comfort, the machine can sew without use of the foot controller. Electronic Speed Control let's you have complete control over the speed the machine when sewing without the foot controller.
This system ensures excellent stitch quality, whatever type of fabric is being used.
Top Loading Bobbin System with Clear Cover
This mechanism incorporates a magnet type vertical axis rotating hook that ensures smooth, quiet, thread jam-resistant sewing.
Change from one to another effortlessly with snap-on feet. No need for screwdrivers to change feet.
Automatic Locking Straight Stitch Function
Tie-off straight stitches with just a push of a button. Reinforcing the beginning and end of the seam prevents unraveling.
Tacking Stitch with Auto Tie-Off Function for Decorative Stitches
Tie-off decorative stitches, at the beginning and end of a stitch sequence, with just a push of a button.
Push the conveniently located Automatic Reverse Button to sew stitches in reverse.
Most stitches can be set for a maximum width of 6mm. When sewing decorative stitches or satin stitches, the wide stitches are bolder and more pronounced.
Thread a machine in 6 seconds! Just follow the arrows on the machine...and you are threaded in a snap.
An audible tone confirms pattern and function selection.
With a maximum sewing speed of 750 stitches-per-minute, projects can be sewn quickly.
Automatic Presser Foot Pressure
The amount of pressure exerted on the fabric by the presser foot against the feed dogs is automatic. Sew from the lightest weight tricots to the heaviest denim, without making presser foot adjustments.
Automatic Bobbin Winding Clutch Needle Bar
Automatically disengages when winding the bobbin, making bobbin winding safer because the needle won't move up and down.
Bobbin will automatically stop turning when the bobbin is completely filled. Never worry about overfilling a bobbin again.
Adjustable Stitch Length & Width
Optimal settings for length and width are automatically adjusted when choosing a stitch. They can be overridden to personalize length and width choice.
When tapering with the zigzag stitch, the stitch tapers to the center, not the left or right. This provides a more attractive look when tapering into or out of a point.
When using a twin needle (optional), selected stitches can be adjusted for twin needle sewing by reducing the stitch width.
Needle position can be changed for individual projects, such as inserting zippers or cording and topstitching.
This feature is most useful when sewing through multiple (6-8) fabric layers.
Extra-High Presser Foot Lifter
There are 2 heights to the presser foot lifter. The second height offers more clearance, which is needed when placing multiple layers of bulky fabric under the presser foot.
This is a specially designed feed dog that ensures that the fabric is picked up and supported from the front of the presser foot to the rear. This makes for much more accurate feeding.
The internal skeleton of the sewing machine. This rigid support holds all the mechanisms in perfect alignment for perfect, skip-free sewing.
I will give a proper review after I've constructed some garments.
*********
My mom sent this really cute knit dress that was an XL and ridiculous big in the armhole and neck. Boooo!
And she sent this dress.
I gave it MAJOR side eye because of the floral but then I put it on. And I like it. I REALLY like it! It has a wrap front with pleats on the bodice and godets in the skirt. The ties are attached in the side seams. Very pretty!
**********
I saw this in Target today for $5.58 and just LOVED the fabric! I "shouldn't" wear it because it's just waist length and boxy, but I love it on me. Love. Love. Love.
I was uncertain about the second layer but it was so cute with jeans and pumps that I'm going to leave it!
***********
This wardrobe contest is dangerous...I'm already several patterns richer and it JUST started! :-p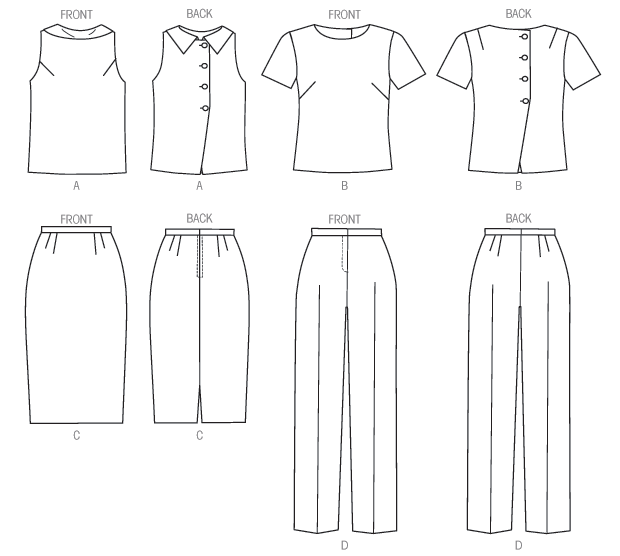 Vogue 9014: I can't wait to try out view A!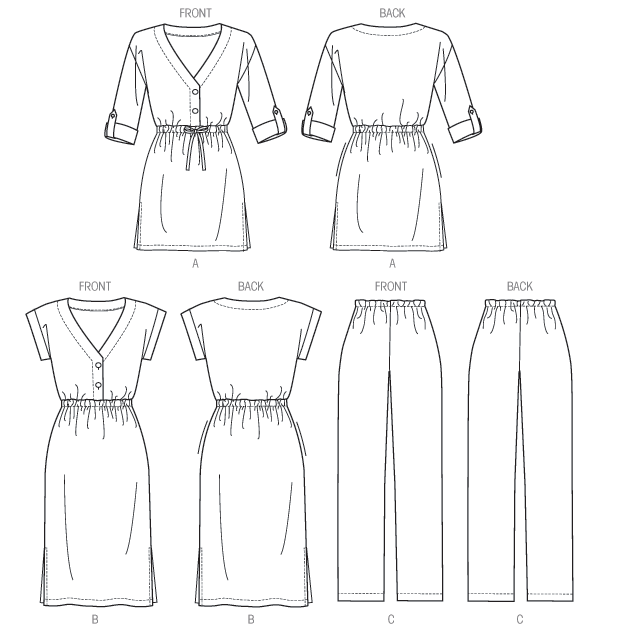 Vogue 8985: Is this cute or WHAT?!