I was veering wildly off track for a minute but pulled it together!
Last I mentioned, my wardrobe was this:
M6996 did not pan out and I still need to finish the M7121 dress. I sewed M6969 jumpsuit instead.
S1916 was replaced with M6839 and V9032, while still being sewn, will be replaced with B5760 in black.
So I still have to make the skirt and the two most complicated items; the jeans and jacket. If I start the jeans tomorrow, they should be done by the end of the week. [I have been spending about 2-3 hours job searching (ok, the first few days was seriously just updating my resume/cover letter. What a CHORE!) and 2-3 hours sewing. ]
And then a quick muslin of the jacket and I should be done with my wardrobe before April is up!
*****************
Burda 6911 was just made recently, blog post
here
. This time I used an icy grey rayon jersey from SR Harris. I still couldn't figure out a dang-blasted FBA on this pattern! I studied it and studied it and was like, whatever. I sewed all seams as 1/4", shortened the top 1" and used a 1.5" hem.
Dear Burda, how long do you think we are?!
I shant complain. I am sure taller ladies are having to lengthen much more often than I have to shorten!
I didn't have a ton of this fabric (kicking myself because it's awesome!) so the sleeves were chopped according to remaining fabric.
*****
Next, I sewed McCall's 6839. I really loved this pattern when it came out but never really thought to sew it.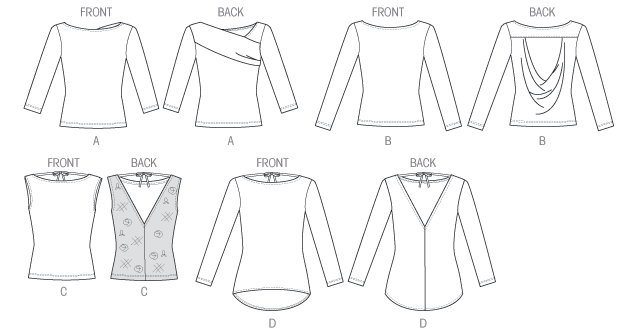 I sewed view C and was all prepared to need to add length to it because it "looks short". But the back length is 23 3/4"!
I thought this would make a fun summer top and the front boatneck allows it to be work appropriate too with a jacket or cardigan.
I sewed a size 16 which has a 39" bust, so just a tad of negative ease there. I could have graded out below the bust or sewn smaller seams because it fits snugly through the tummy and hip too.
LOVE the neckline - front and back!
Dislike how they had you attach the ties. It just isn't clean. Also a little iffy on the positioning of the ties but that could partly be due to body type (slanted, forward, narrow, broad, etc shoulders).
Chopped off 1" and did a 2" hem.
I would sew the a longer version with sleeves as a fall tunic. Really like it. Also, this jersey is fairly lightweight but those ties still got bulky. I will keep that in mind for next time.
*****
I wanted to start my jeans SO BADLY on Saturday but my hands were hurting and I didn't want to aggravate them. I cut V1411 instead. This is my 3rd pair :)
When I got this fabric I was crazy about the feel of it but not the color. I was actually going to make a hoodie for my son with it but then he asked for red shorts instead (which I still need to make. shhhh).
I decided to leave off the top stitching this time and I added 1" to the length. I
still
ended up with 5/8" hem allowances. Sigh.
Based on the fit of the other two pair, and the fact that I was using 1" elastic, I sewed the waistband to the pants with 3/4" seam allowance and sewed all seams at 5/8" (last time I think I sewed smaller side seams). I also cut my elastic about 1.5" smaller. All seams were sewn on the sewing machine with a zig-zag, pressed open and then serged and pressed to one side. I stitched in the ditch on the side seams to secure the elastic and again left out the crazy tip about elastic at the crotch seam. No thank you. I HATE that in the burgundy pair and decided today I'm going to unpick it.
These feel nice and snug without being tight and I really, really like them a lot!
They look really cute with the black/white/grey (and combos of the three) tops in my closet. Also very cute with my Butterick moto jacket!
This is the face you make when you see forest creatures in your back yard while taking pictures. I am a city girl. C.I.T.Y. How I came to live so close to wildlife is beyond me.
One important thing to note...when I first sewed these last year, I was sure that I had made some sort of mistake. Now, I am fairly certain that there are notches that don't match up on the some of the front leg pieces.