Last night I hustled to finish my New Look top and wore it to work today. Feeling quite good in my shiny new top.
And then was asked to meet in the conference room.
And then was told I was being laid off. I was fine for awhile, well as long as I didn't need to talk....and then I cried. I never cry "outside". I never cry! Grrrrr!
Sooooo by 8:30 I was back home and keeping myself busy.
I have 3 tops done and the 4th top ready to go. I have a jumpsuit half sewn as it might get subbed in instead of the dress. But now I have time to sew something else for the concert we have tickets to so who knows!
Wah. I'm a crazy lady right now.
Sigh..
Okay...back on track...
New Lok 6110. Based on the muslin I made last year, it was a little too snug and hung up on the hips. The pattern was cut out already in a size 14 so I had to make some adjustments on the fly. I had cut it out before I remembered I needed more hip room so I opted for side splits at the hem.
I am so very happy with my top and proud of alllllll of my stripe matching!
On the dress form:
The instructions for the placket were unhelpful (that's an understatement). I was going to look through some other patterns with that type of placket but I slept on it and suddenly "knew" what I was supposed to do. Love when that happens.
As you can see I have a few puckers around it; they mostly disappear when it's on ma'body. After sewing the facing and understtiching, and topstitching...you are to turn inside out, overlap the plackets and stitch to the little flap of the shirt.
The "flap" is created when you reinforce the corners and then clip to the stitching. Now you have a free piece of fabric that you stitch between the dots on the facing pieces. I stitched a little too far which is how I got pulls. But it's a tight area to work in and I didn't want to redo it so there.
I used a poly something or another (no clue) from Hancock for the body and a broadcloth for the neckbands. Instead of adding the bands to the sleeve I added 3/4" elastic. I forgot that elasticizing the sleeves would make them slightly shorter. I will add 1-1.5" to the sleeve length for next time.
I used two large buttons instead of 3. Just cause. They are not functional as I can slip the top on and off over my head.
I really, really love it!
*******************
This is the same top I made for my daughter, that I decided was a really cute shape and would be better than the Kirsten Kimono tee I'd originally planned.
I traced a size 40 neck & upper shoulder/sleeve and a 42 for the body. I did not add any hem allowance AND chopped off 1" AND sewed a 2" hem!
and then realized I traced off view B which is designed to be gathered. Oh.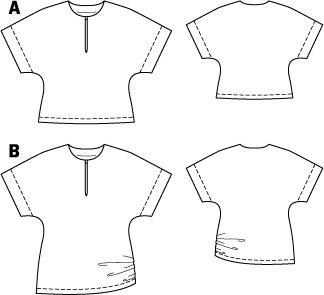 I ended up taking the hem in 1" on each side after sewing, tapering to nothing at the waist. It was kind of "sticky-outy" and I didn't like that. If you have sticky-outy hips that might work for you.
I decided I didn't like the keyhole as much so left it as a split neck.
I am looking forward to completing the rest of my wardrobe!