I mean, is that really possible?!?
I have every single Butterick wardrobe pattern I could find. There are some great things in there. Even if it's only 1 or 2 pieces, at a less than $2 price tag, it's usually worth it for me if there's a single gem.
I bought this pattern for the cardigan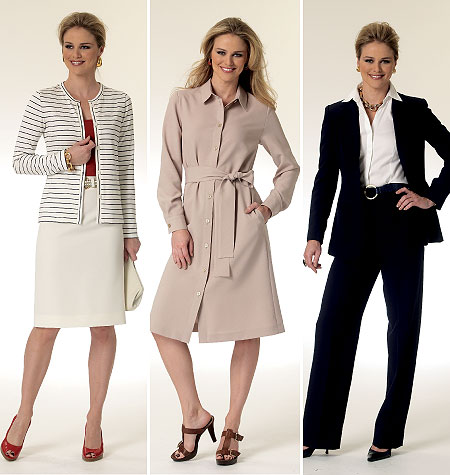 While browsing the collection looking for a skirt pattern, I happened upon this one.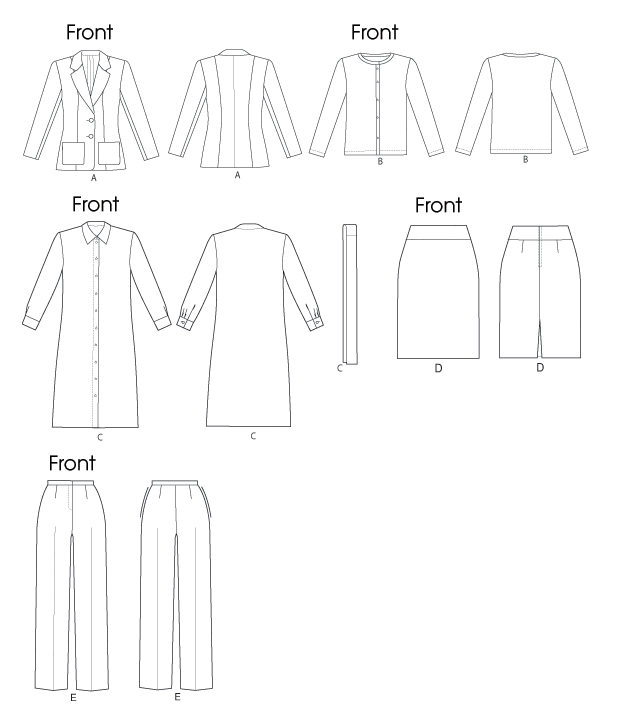 Hmmm. Look at that nice straight skirt. Look at that cool waistband. It's a nice length...it only needs 1 yard of fabric for all sizes. SOLD!
I first cut it in this striped cotton and used a size 18 based on a finished hip of 45.5". I removed some length from CF but did not add to CB. After basting the side seams, I ended up with 3/8" waist seams tapered to 1.25" side seams. I kept the 2" hem (LOVE!) and removed some of the extreme hip curvature.
I did a centered zip and top-stitched hem and just serged the edge of the facing.
Definitely consider this on the more 'casual' spectrum of things. And I think it'll be super versatile in my wardrobe.
I was all, "what is that poof of fabric..." and then remembered that you were to ease in the front waist to the yoke. I do not like.
On Version 2, I removed that excess ease and shaved off the hip curve. I also cut the front pattern piece down to a 16 (keeping the back an 18). The front wedge was made at 3/4" and lowered the darts an inch.
This fabric was picked up from the remnant bin at SR Harris. OMG it's so awesome! It's some sort of suiting that is nice and thick but not heavy, has a tiny bit of stretch, washes and dries nicely and presses well.
I used a contrast facing this time and bound it with bright blue bias tape.
I also did a lapped zipper and added a button and loop at the top.
Another GREAT staple in the closet! And bottom #2 in my wardrobe contest entry. I also started cutting my jeans out today.
Ahhhhh.
If you have this pattern (it is OOP now) and want a straight skirt, try this one out!!!