THANK YOU ALL! I big sincere thank you for the outpouring of support about my job loss. I am surprised but not. Sad but not. Excited about what may come next but annoyed at having to search and interview again.
I did start on a skirt suit today using M5523 as the bottom and will muslin S2446 next week. I decided to take these days off as mental health/sew days and Monday morning I'll be up and at it, getting my resume updated.

I'll get those pleats worked out. LOL!
Because my M6696 shirtdress was looking like a fail (maybe I'll post the muslins when I go back to it). I decided to use the chambray for a jumpsuit instead! It's lightweight but opaque and stable enough to not give me a headache during sewing.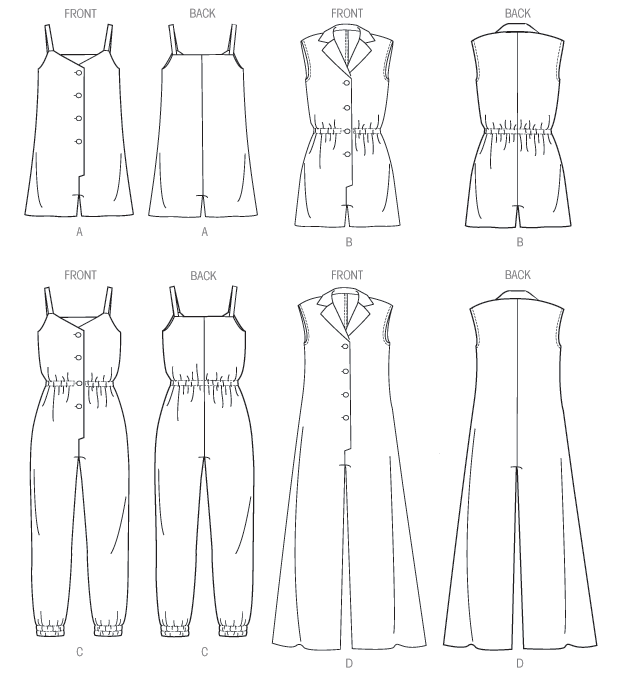 I used view C because I don't like A and view D realllllly needs the "right" fabric. View B is okay so maybe another time for that one.
I bought this in the larger size range, L-XXL. I really needed a medium up top and a large on bottom. But as you can see, the top and bottom are one piece so I'm not sure how I could grade down the bodice.
It doesn't look crotch-tastic in person.
I ended up having to take armhole darts to make it fit a little better. There's still a tuck needed at the neckline, as you can see.
I cut an XL at the back crotch and used royal blue bias tape for the casing. I was TOTALLY gonna use paisley again but I cut it out, stitched the ends together and realized I'd sewed them wrong. Womp-womp.
There are two channels for elastic in the hem. I LOVE this treatment! Much nicer finish than just one. However, I started with 11", that was far too long and then I chopped off too much. So if I pull them down they look like genie pants. :)
I think it would look really cool with a fitted cropped blazer. I don't have one of those but I tried it on with the blazer I recently picked up at Target and confirmed it would look great with a jacket
Please do not ask me what they mean for finishing the bottom of the placket; I do not know. It was confusing and unclear and in the end, I did what I do...I just did what looked right. Hey, it works!!!
I have the last two tops sewn but in need of hems and will get back at it after making the suit and a couple of shells.
Later!