Sew-a-palooza? Oh yeah. It happened.
I made a knit top and pants (both made before), a pair of shorts and 2 skirts. I'll review the shorts and show off the other two in a second post. I also managed during Sew-a-palooza to make 3 dozen cookies, make two Target runs, have lunch with my daughter, take her to SR Harris and cook dinner! I did not go grocery shopping.
Now, if you recall, I was really working on shorts muslins a little while back. Well then I got it in my head that I needed casual skirts. And I needed a pattern with a yoke. I was perusing Lekala and found 5871.
I really liked it! Except I knew I wasn't going to attempt those zippered pockets without proper instructions. And then I knew I wasn't going to do all that dang top-stitching. And that band is cute from the front but the tabs? Meh.
And then, as soon as I paid for it, I realized there was a recent Burda pattern with a yoked back. Dang it! But then, I had the lightbulb moment to make them BOTH. Score!!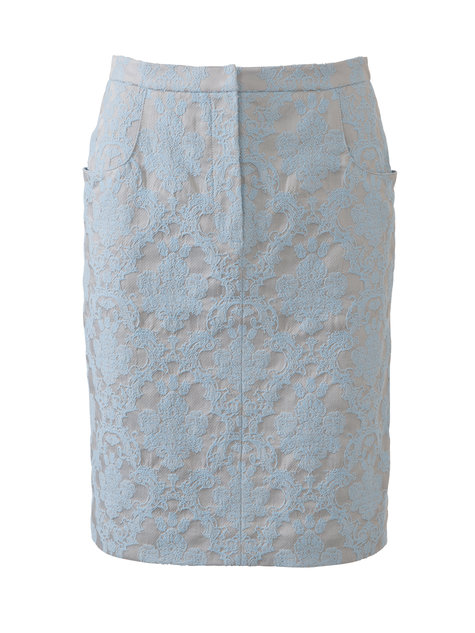 Burda Style 02/2014 #109 is sized for stretch fabrics and intended to be lined. Lined? Nope. Not today.
The Burda pattern was up first. I'd cut a 44 but after realizing how stretchy my denim was, I decided to use that difference between a 42 and 44 as part of my seam allowance and pseudo make the 42. I attempted to read the directions twice and then said forget it...it's a simple shape; I can do this!
The Bad:
I was *SO* intent on my zipper not showing that I put it too far on the fly side and now it's lumpy. Boooo.
I didn't add seam allowance to the drafted fly shield so it's a tiny one :)
I somehow drafted my waistband too short and had to patch it. You can barely tell though!!!
There were crazy storms today and I only have sucky pictures.
The Good:
I really like it!
I used a jeans zipper!
The shaping from the yoke is awesome!
The Technical:
Stretch denim remnant from Mill End Textiles (purchased last year)
Jeans zipper from stash ($.97 on clearance from JoAnn!)
Size 14 needle for seams, size 16 needle for waistband, buttonhole
Gingham scraps for pocket lining
Metal button from SR Harris ($.25)
Thread from stash
Finished length was 23.5" or so...I didn't add any hem allowance and used a 1.5" hem
I actually top stitched the yoke (on either ride of the seam) but it is pretty invisible. It is neat though! Hahaha!
The Lekala skirt was sewn on Sunday in about 3 hours. It went REALLY fast. I tried reading those instructions four times and MEH!!!!! At the last minute, I decided to leave off the pockets. I like pockets but on women's fitted garments they just seem to get in the way. Every time I put on the denim skirt I have to "arrange" the pocket. Hmmph.
It was raining and WINDY and this is the best outside pic
Some of that bunching is due to my (granny) panties. Sorry.
The Bad:
Nothing! I kicked butt sewing this skirt!
Wait...the darts. I don't like the darts
The cut on fly is too narrow. Next time I'll add 1/4" or 3/8" to it
The Good:
Fast. Fast. Fast.
I did a good job topstitching the darts and ok on the yoke topstitching
I made no adjustments and think Lekala did a pretty good job on the drafting.
The Technical:
Cotton twill from SR Harris ($3.50/yd!)
Zipper from SR Harris ($.50 in stash)
Button from stash
Thread from stash!! I was so amazed that I had matching thread. Yay for stashing!
Since I eliminated the band on the bottom, I added 2" to the length and a 1.25" hem allowance. I ended up making a 1.5" hem.
Verdict?
They're both good patterns!!! Yay me!
The Burda is sized for stretch wovens so that affects fit.
The Lekala is great for circumferential measurements; but I think adjustments still need to be made. E.g., my "hip" measurement is 44". More of that is attributed to my butt than my "hips". I don't have enough butt room. This is true for the Burda pattern too; but the fabric stretches.
They both lose with their crappy straight waistband that's just folded in half. Booooo.
Those darts on the Lekala have to go. I don't like them. Maybe I can Frankenpattern and use the Lekala front with the Burda back! :)
In the above pics, the Lekala is on bottom, Burda on top. They are VERY similar! The Lekala is only slightly more wide on the outseam than the Burda.
More Sew-a-Palooza and SR Harris yumminess coming up! :)