Expect sew-a-palooza this weekend. :)
I have my B5678 shirt in need of hemming and buttonholes.
I have a dark, slate grey vest in progress (view C). I think it'll go great with said shirt.
I have 8,000 ideas of what I would LIKE to sew over the next few days...but it changes when the wind blows :)
6754, 5890, 6884, V8772
M6754 (the striped view) is already sewn. It just needs hems. Did that in about 45 minutes this morning - I even amazed myself!
M5890 looks 100,000x better made up than the envelope. I am going to make the dress and the top.
M6884 well...I just have to have it. I am not happy that it's a mock wrap though. I want a "real" wrap dress. I'm torn between what view to use though. I am thinking view A with the 3/4 sleeves.
And V8772 will be my next 'wearable muslin' for the fitted blouse contest. I am going to sew it in black as I want to sew the contest entry in a french blue striped shirting and do white contrast cuffs and collar! (fancy! hahaha)
Those knits should whip up rather quickly and maybe I can start on the Vogue top.
Also - I have decided on my "New to Me Pattern Company" entry. It will be the Sewaholic Thurlow shorts. So maybe one of these projects will be back burner-ed so I can muslin the shorts.
AND, there is
L's trench coat sew along
!! I think I am going to go with
Burda Style 11/2012 #118
. I scored some black waterproof "jacketing" fabric from FabricMart for $1/yard in the last sale.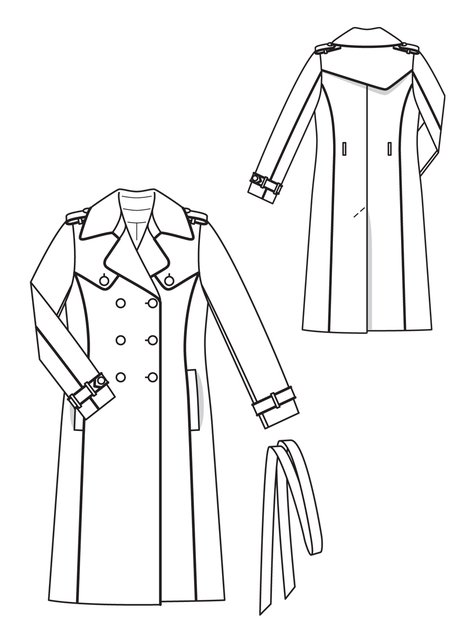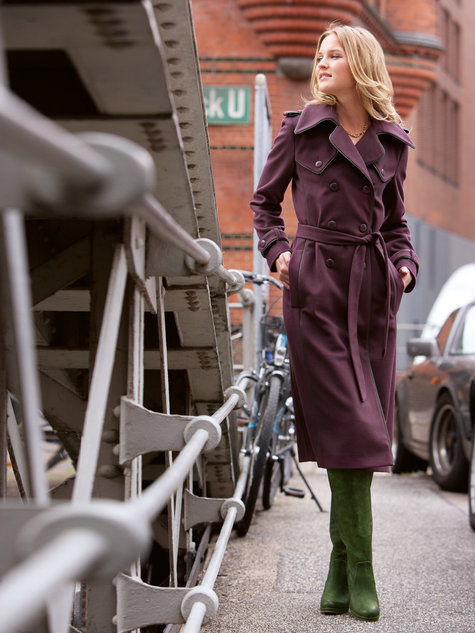 (mine will be shorter. Look how long it is on the model!)
Yes. I am a junkie.
So I masquerade on Pattern Review as being on a fabric fast. I stink at it. I try! I really do!!!! But I think I still love collecting fabric and dreaming of the possibilities. Plus all of my stash is still easily contained. That means it's not nearly enough yet, right? RIGHT?!?!?! ;-) If it matters, I *always* confess! LOL!
*The top is a gorgeous cotton/nylon/lycra sateen. I think I can do a dress or definitely a skirt. It's two panels, each 32" (so about 1 3/4 yards of fabric) and they are 51" wide. The two panels ARE a single cut.
*Then there's brown sweater knit that is really light and airy. I have something in mind for it.
*The black jacketing fabric :)
*A rainbow of pongee lining (I like this stuff)
*3 cuts of chiffon. Deep sigh. I have yet to sew chiffon. But the purple and the plaid/floral are gorgeous. I am not sure about the blue floral. Maybe it'll be a muslin for something that the other two can become :)
Soooo I have become a Burda-holic. I eagerly(!!!) jumped at the Winter 2014 US edition. Yes, they are repeated patterns. That was okay with me as I don't have (many) past issues anyway. There were approximately 20 patterns on the sheets and 20 that you could download. Awesome.
The spring edition has arrived. There are 20 patterns on the sheets...and links to download the other 20 (21??) patterns...
AT THE FULL PRICE OF $5.99 PER PATTERN!
How is THAT for a bait and switch? Boooo Burda! Several of the things I liked in this mag are available to BUY online...not included in the magazine. The other few that I like are from 3/2013 which I own. So there are 2-3 patterns from this issue that I want to make. Bleh.
The deadline for my sweater is today. I will not meet it. But I am knitting up a storm!!! Hope to finish by the weekend.
*Short rows are used to create the sleeve cap but they are a bear for a first timer. I was going to try to fudge it (lol!!!) but then I (thankfully) found an explanation for the short row.
DUH! If I just knit a tube my sleeve will be stupid. I need to CREATE A SLEEVE CAP. Well of course,
that
made perfect sense to me. And I drudged on and did the short rows. I think sleeve #2 will be much less janky.