So...Friday night I set out to cut and sew my New Look dress for the party. Oh boy, the initial parts went fast. The fabric is gorgeous. I can't wait to try it on! But I will wait til morning as I am full of sweet 'n sour chicken, I told myself.
Saturday morning I put the dress on - I had a weird hip bubble and zipper bubble. Zipper bubble I know how to fix. The hip bubble perplexed me. After having 1,087 things to do on Saturday, I never got back to the dress. I had to rewear my black party dress. :sigh: So I decided to go all glam (for me! LOL!) with hair and make up.
This was a biennial fundraiser for the private school my husband works for. The venue was gorgeous! Gorgeous!! There was amazing food and lovely decorations all in a black and white theme but jazzed up! There were plain black table cloths/couches/chairs and plain white but there was black glittery and black/white chevron and oh it was just pretty!
And then I saw it.
Someone wearing jeans.
I am not a fashionista in any sense but I know how to dress appropriately for the occasion! You don't need to wear a ballgown but jeans?!?! Gah.
ANYWAY, after the weird hip bubble incident I decide to switch gears. I pull out my ever-in-progress B5678 and start the topstitching on the cuffs. I ripped it out 4 times. I tried to just stitch in the ditch. Ripped out twice.
DEEP SIGH.
Okay, I'll do the buttonholes. I have never ever ripped out buttonholes -- until Saturday. 3 times. And then I finally got a good buttonhole (and, duh, practiced on a scrap) but then guess what I did? Said, whew. That was difficult and turned all the darn dials back to the settings for straight stitch. And as you can guess...was not able to go back and get a decent buttonhole.
I quit. I quit!
Sunday morning I figured I needed a simple palette cleanser. A knit. A dark one (the serger had black thread in it). I traced and cut Burda 6910, view A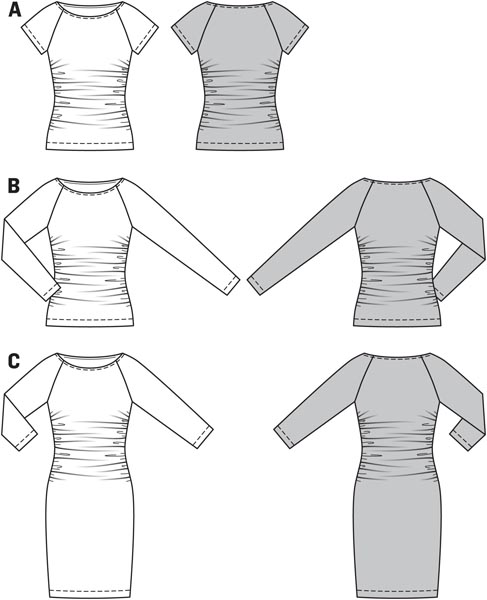 I used the black "jersey" that I picked up from SR Harris. It went together effortlessly and then I put it on.
DEEP SIGH.
I swear this material felt really, really nice on the bolt. I was so happy to have found a lightweight black knit. This fabric felt horrible on my skin! I can't describe it in any appropriate words, it was just nasty. Also; the short sleeved view is not for me. It hits right where my arm is biggest and wasn't at all attractive. So I plan to sew view B with the 3/4 sleeves this week as I *do* like the top and ruching is always my friend.
Overexposed to show details
Ruched with 1/8" elastic
I also messed up the neck binding but at that point I knew I'd never wear it due to the feel of the fabric.
::Oh gosh. My sewing mojo is dwindling now. Ok. Ok. Ok. I need something good. I need a good project!!!::
So I decide to completely switch gears and start my summer wardrobe like I've been wanting to. I pull out the new McCall's 6927 woven tee pattern (comes in sizes 8-16, A/B, C, D cups and 18W-24W, C/D, DD, DDD cup!)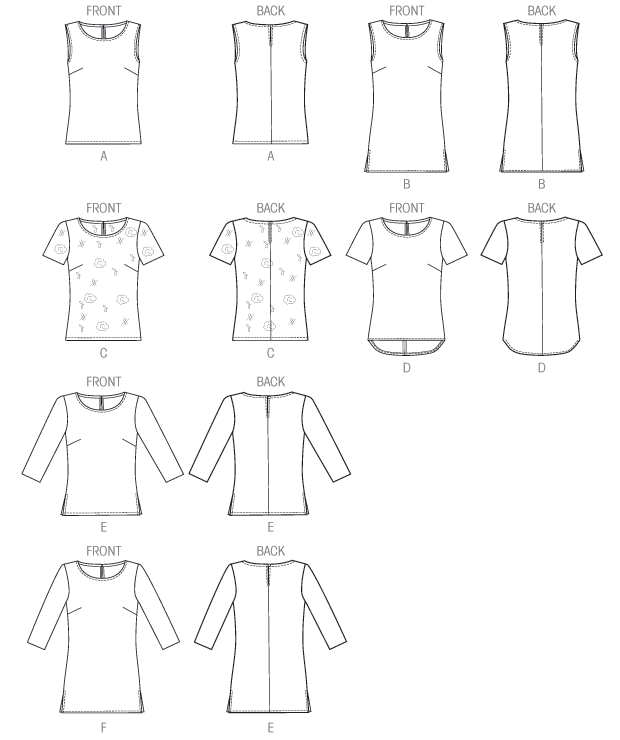 I've seen a couple of reviews lately on PR with tops in graphic black & white prints and had a lightbulb moment! I have this awesome FabricMart burnout cotton voile in my stash! I only had 1 yard so I knew I'd be going sleeveless here.
(can anyone tell me why McCall's only has a 45" fabric requirement on this pattern??)
I decided to do view D without sleeves.
Can you see the happiness!?!?
Me and my not accounting for the hips...
Never thought I'd do the 'mullet hem'!
My loop and button aren't gorgeous on the inside but they work. Vents added due to hips :)
So this is where the "Dumb Luck" comes in.
I pulled this pattern out and thought, "Hmmm. That's interesting that the size 14 has a 43" finished bust" and cut the front and back pieces out.
"Hmmm. Interesting that the dart is so big!"
By sheer luck, I cut the D cup pattern piece. I had paid zero attention. ZERO! lol! Also by sheer luck, I used grey thread that was already in my machine and it was perfect.
Can we beg for ALL woven top/dress patterns to have cup sizing?!!?
I did a 1/2" narrow shoulder adjustment and 3/4" swayback adjustment. One
DOH! -
The finished hip was 43" on the 14. Mine are 44". Should've graded to a 16 there...so I believe the back wrinkles aren't more 'swayback' but rather my fabric not fitting over my hips fully! :) There will be more of this top. I will make it right.
Otherwise, it went together very quickly and easily. The vents were new to me and easy to do as was the back slit. In the end I wanted to prance around in this top all day long. I even dug out a pair of shorts to make me feel more summery -- even if it is well below freezing still!
Other notes:
Switched to a microtex needle to sew as after ripping out the side seams to add the vents I noticed fraying. I interfaced the area and sewed the vents.
Used store bought bias binding (I know some people hate it but I'm spoiled to it!)
*should* have used french seams with this fabric but will pink the seams.
15 year old said I should "cut the butt flap off". But I'm kinda liking the butt flap... :-)
******************
Progress on my sweater!!!! :-)